UK: Annual Giyarveen Sharif Mehfil – MQI London
By the Grace of Almighty Allah and the blessings of His Holy Prophet Muhammad (PBUH), Minhaj-ul-Quran International London held Annual Giyarveen Shareef Mehfil commemorating the life of Shaykh Abdul Qadir al-Gillani al-Baghdadi (RA). The proceedings of the programme began with the recitation of the Holy Qur'an by Qari Muhammad Kashif followed by salutations upon the Prophet (SAW) and manqabat by QTV Naat Khawan Muhammad Shoaib Qadri and students from MSIS Abu Hassan and Ahmed Raza. The Great Grandson of Sayyidina Ghaus-ul-Azam Shaykh Abdul Qadir Gillani (May Allah be pleased with him) and the beloved son of Sayyidina Tahir Allauddin al-Qadri al-Baghdadi (May Allah be pleased with him) (the beloved Shaykh of Shaykh-ul-Islam Dr Muhammad Tahir-ul-Qadri), Pir Sayyid Abdul Qadir Jamaluddin was the Chief Guest.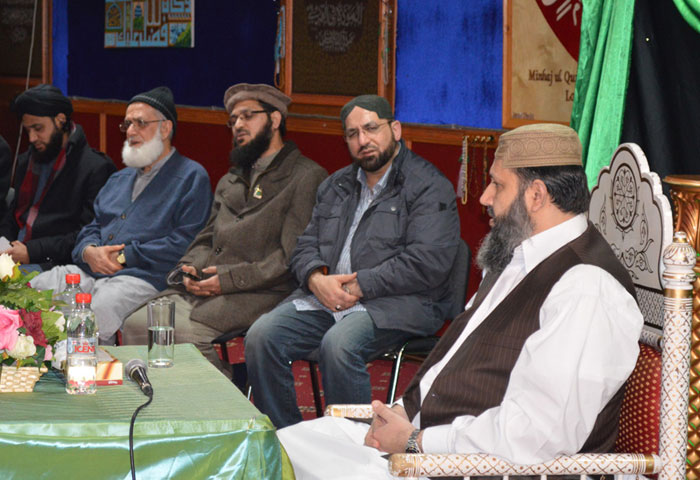 Speaking on the occasion, Skaykh Sohail Ahmed Saddiqi highlighted the miracles of Shaykh Abdul Qadir al-Gillani al-Baghdadi (RA) through an educational and spiritual point of view. He said that on each wali there is a qadam and Ghaus-ul-Azam has the blessed qadam of The Prophet (S. A. W). Once, a woman brought her son and asked Huzoor Ghuas-ul-Azam to keep him in their blessed company and teach him. Huzoor Ghaus-ul-Azam accepted the child for spiritual education. After some time the mother visited her son and found him thin and pale and eating a crust of bread. She went to Sayyidina Ghuas-ul-Azam and found out he was eating chicken. She was shocked and said my son is so weak and thin and you are eating chicken. Huzoor Ghaus-ul-Azam placed his blessed hand over the bones and said, "In the name of Allah who revives bones form dust, rise!" – The chicken immediately became alive and ran about the table saying, "There is no God but Allah and Muhammad (SAW) is his messenger and Ghaus-ul-Azam is the friend of Allah and his beloved Prophet (SAW). Ghaus-ul-Azam said to the mother, "When your child reaches this stage, he can do whatever he wishes". He said "The Walis of Allah are acting on behalf of his Holy Prophet (S. A. W) and are not proclaiming their existence and position until commanded by Allah to serve the whole world".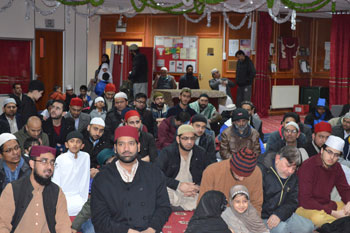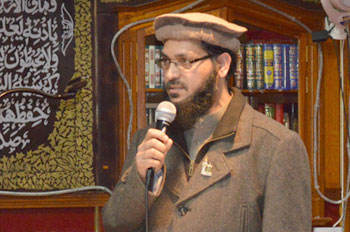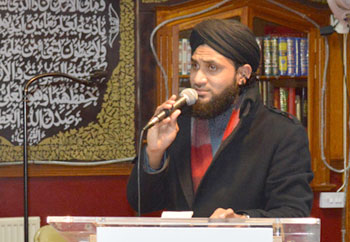 Director Minhaj-ul-Quran International London, Allama Muhammad Zeeshan Qadri said that Sayyedina Ghaus-ul-Azam is not only known as the greatest of helpers, but was also a great preacher, a great educationalist, a great moralist and a great master of Islamic Law. He was the glory of the learned and light of Islam, the spokesman of theologians, the interpreter of men of spiritual knowledge, the unique leader of leaders and the reviver of religion. He also mentioned one miracle which took place in the life of Sayyedina Ghaus-ul-Azam, when some people wanted to test the spirituality of the Shaykh, and put a healthy and alive person on a makeshift death bed and asked Sayyedina Ghaus-ul-Azam to lead the Janazah prayers for him. When Shaykh asked them whether the person is dead or not? The relative confirmed "YES YES he is dead". When the Shaykh finished the Janazah prayer, the person was really dead. At another occasion, Shaykh Sayyedi Baqaa (RA) states that he accompanied Huzoor Ghaus-ul-Azam to the tomb of Imam Ahmed Bin Hanmbal (RA). "I saw the grave of Shaykh Imam Ahmed Bin Hambal open and he came out of his grave and embraced Ghaus-ul-Azam and said "Even I am dependent on you in Tariqah".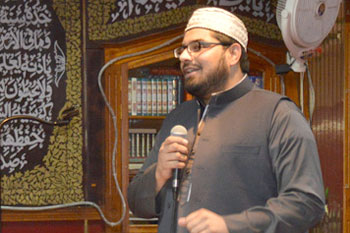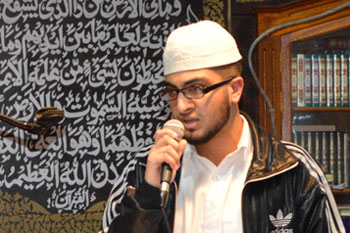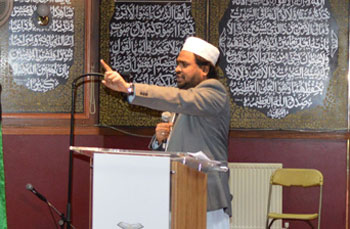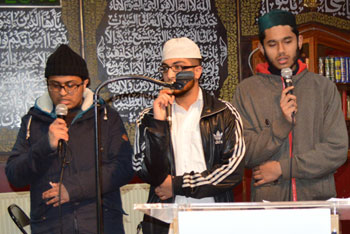 Allama Junaid Alam Qadri delivered a short but meaningful speech on the life of Ghaus-ul-Azam (RA) and Sayyedina Tahir Allauddin Qadri Al-Giliani. He said, he spent a lot of time with Sayyidina Tahir Allauddin Qadri and also witnessed many miracles of the Shaykh during his life. He described the karamaat of Ghaus-ul-Azam and said the whole world was in the palm of his hand. Allama Shahnawaz, Gen Secretary Minhaj-ul-Quran International London, leading the proceedings of the program, described the Shaan of Ghaus-ul-Azam from a different perspective. The Programme ended with the recitation of manqabat In honour of Ghaus-ul-Azam and Dua by Huzoor Pir Sayyid Abdul Qadir Jamaluddin.
Reported By: Moazzam Raza