UK: Quaid Day Celebrations Held
On the 19th of February 2014, Jamia Masjid Minhaj-ul-Quran held birthday celebrations of Shaykh-ul-Islam Dr Muhammad Tahir-ul-Qadri, the founder and patron-in-chief of Minhaj-ul-Quran International. The mosque had made arrangements for children from educational centers, the Carr Road site and the Brunswick St site, to attend the proceedings. Along with them, local members of Minhaj-ul-Quran and parents of the students were also invited to attend.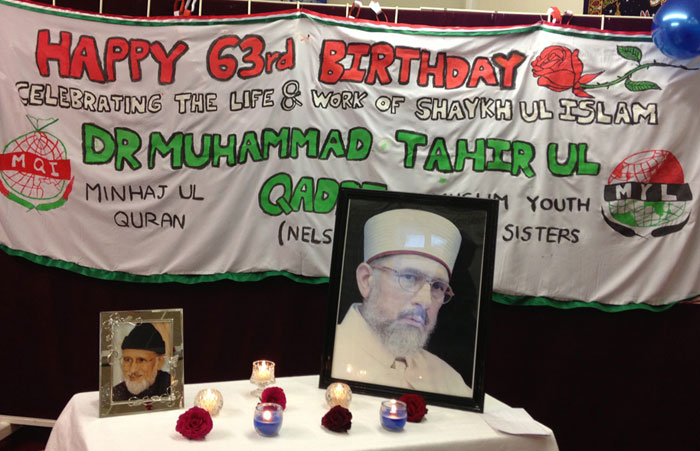 The mehfil was introduced by the head teacher, Sister Tahira Basharat, who conducted the proceedings on the female side. There were recitations of the Holy Quran by students from both centres. Sister Tooba Bilal, from Brunswick Street and Sister Zainab, from Carr Road did beautiful recitations of the Holy Quran. This was followed by a Naat Sharif by former student Sister Atiyah Parveen, with Salihah Anjum, and Maariyah Bilal, who recited a Naat Sharif written by Shaykh-ul-Islam. The students from Carr Road recited beautiful manqabat in honour of their leader. The first anthem was sung by Sisters Laiba and Malaikah, whilst the second was sung by Arooj and Rozina.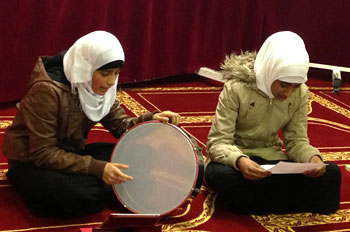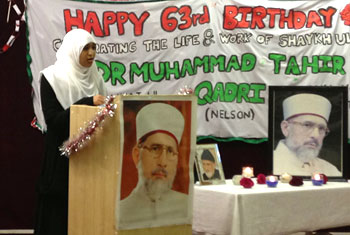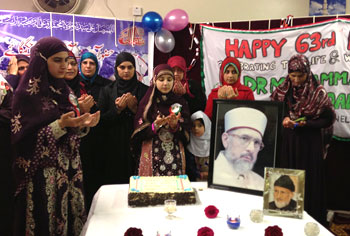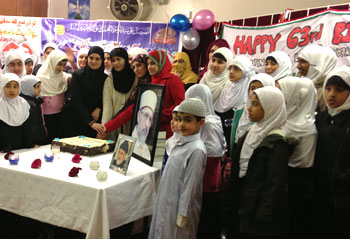 Sister Nimrah Khan, a senior student of the Brunswick Street Site, delivered a talk about the life and works of Shaykh-ul-Islam Dr Muhammad Tahir-ul-Qadri. She explained about how Minhaj-ul-Quran International was created, which has now spread all over the world. This was followed by a Naat Sharif by Rabia Shaheen and another anthem was presented in the group form by Jasmine Ahmad, Alisha Ahmad, and Saliha Anjum. There was a short break for Salaat-ul-Maghrib, which everyone offered with Jamaat. In the second part of the programme, the male side of the mosque hosted the programme. There were beautiful recitations from students and guests who had been invited. This was concluded with Salaam and Dua, followed by the males.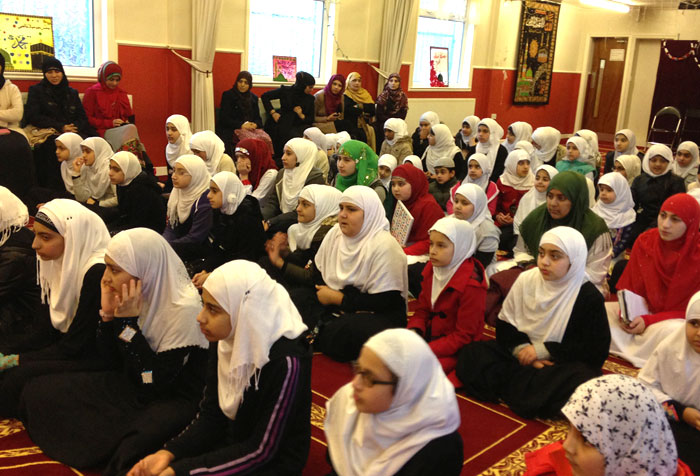 A cake cutting ceremony was held in which slogans were chanted. The students from both centers took turns to cut the cake, which had been bought specially for the occasion. In attendance at the event were local members of Minhaj-ul-Quran, who all showed their encouragement to the students and supported the event.
Reported by : Tahira Basharat & Naushaza Fiaz