Dr Hassan Mohi-ud-Din Qadri urges active role of Mashaykh for peaceful change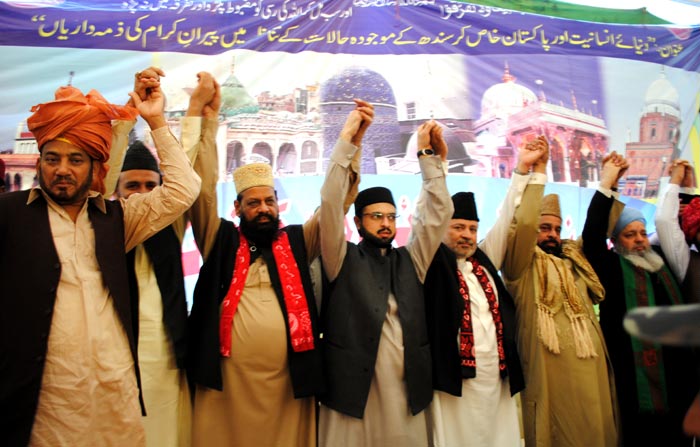 International Mashaykh Conference was held at Dargah Pir-e-Sarhandi, Matiari under the banner of Minhaj-ul-Quran International (Sindh chapter) and National Mashaykh Council Pakistan. Chairman of Supreme Council of MQI, Dr Hassan Mohi-ud-Din Qadri, was the guest of honour and keynote speaker at the occasion.
The Conference was presided over by Pir Khawaja Ghulam Qutab-ud-Din Faridi, President of National Mashaykh Council, Pakistan, whereas Pir Syed Bilal Chishti (Sajjada Nasheen Ajmer Sharif, India), Pir Mian Ijaz (Data Darbar Lahore), Pir Ghulam Mujaddid Sarhandi Matiari, Ghulam Muhammad Jan Sarhandi, Pir Moin-ud-Din Mahboob Koreja (Kot Mitthan Sharif), Pir Syed Farhat Hussain Shah (Lahore), Pir Makhdoom Hashmi (Khora Sharif), Hazrat Pir Zafar Ahmad Farooqi (Sachal Sarmast), Syed Nisar Hussain Shah (Sajjada Nasheen Dargah Bhatt Shah), Allama Abbas Kamili, Pir Syed Mehri Raza Shah Sabzwari (Sajjada Nasheen Dargah Lal Shahbaz), Sahibzada Mian Aslam (Dargah Chondi Sharif), Allama Muhammad Ibrahim Mujaddidi (Quetta) were some of the distinguished guests in the Convention. The moot was also attended by Mashaykh from all the four provinces.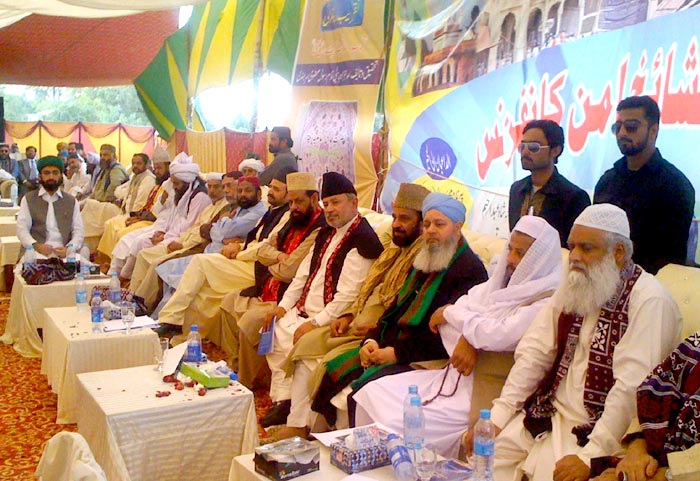 Speaking at the occasion, Dr Hassan Mohi-ud-Din Qadri said that it was not time to sit in monasteries and muse over the deteriorating state of affairs, adding that it was time to move out and act. He said that if more time was wasted, the anti-religion forces that had already disfigured the peaceful face of the faith would use this opportunity and cause more damage. He said that the face of faith being shown to the world and youth today had nothing to do with the real teachings of Islam. He said that Islam did not recommend coercion but ordained the preaching of faith through excellence of character.
Dr Hassan Mohi-ud-Din Qadri said that anti-religion forces were raising their head in the form of various mischiefs in the society. He said that they were so lethal that even monasteries were not safe from mischiefs of miscreants. He said that sectarian and ethnic extremism had been on the rise and Mashaykh had been unable to respond to the challenge. He said that our relationship with our followers, workers, and disciples had been weakened. He further said that the Mashaykh had started connecting their disciples with them instead of Allah Almighty.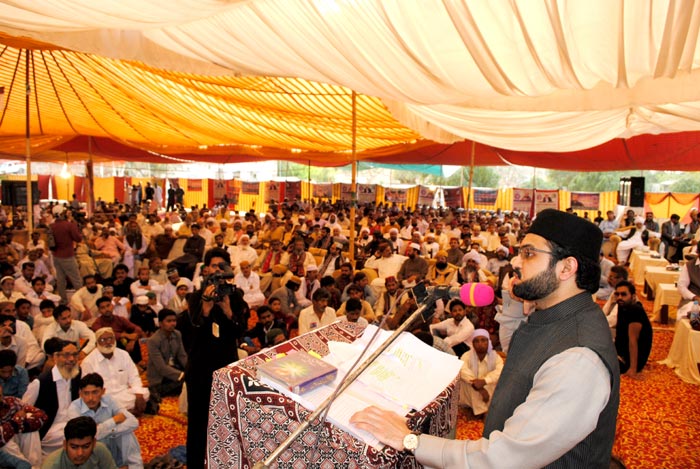 The Chairman of MQI Supreme Council said that history bore witness to the fact that any force that played a dynamic role during the freedom struggle was that of Mashaykh who led from the front with utmost dedication, commitment and passion to help Pakistan Movement reach its logical culmination. He said that any force that can reinvigorate the movement for the country's reconstruction, survival and solidarity was to propagate the teachings of the Sufis. He said that we invited the people belonging to all walks of life to take part in it and play their role for the multi-faceted struggle launched by Dr Muhammad Tahir-ul-Qadri for revolution. He said that he had come to extend an invitation from the platform of Mashaykh Conference. He said that the Mashaykh should strengthen the system of monastery to frustrate the designs of the anti-religion forces, adding that they should join hands with Dr Tahir-ul-Qadri in his struggle for peaceful and democratic change in the country.
Pir Syed Bilal Chishti, Pir Moeen-ud-Din Mahboob Koreja, and Pir Ghulam Mujaddid Sarhandi, in their speeches, declared to support MQI and said that the Mashaykh could defeat the anti-Islam forces by forging unity in their ranks. They said that Dr Tahir-ul-Qadri's message was message of revolution, peace and love.