People join demonstrations in flocks defying all odds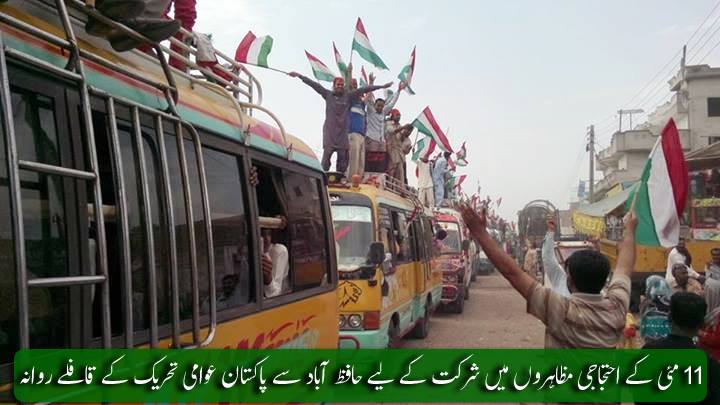 The protest demonstrations and rallies are being held today in over sixty cities across Pakistan under the banner of Pakistan Awami Tehreek to mark the establishment of an illegal government that came into being as a result of fraudulent elections held on this very day a year ago. The elections were characterized by mass rigging and use of unfair means and presided over by an Election Commission which was itself composed in violation of the Constitution.
Though the entire government machinery is busy in an illegal act of depriving the people of their fundamental right to protest in contravention of the constitutional provisions, decency, civilized behavior and democratic norms, the people, defying all pressures and odds, and intimidation employed by the government to hinder the demonstrations, have come out of their homes in flocks to take part in these demonstrations. The massive turnout of the people represents rejection of the incumbent electoral system and places a seal of approval on Dr Tahir-ul-Qadri's revolution as a panacea of multiple challenges afflicting Pakistan.
The protest demonstrations have been dubbed as 'Iqama' of revolution following call to prayer of revolution given by Shaykh-ul-Islam Dr Muhammad Tahir-ul-Qadri in December 2012 and January 2013. The prayer of revolution will soon be led by 10 million Namazis, which will send the anti-state ruling elite home and get back their rights as promised by the Constitution.
Shaykh-ul-Islam Dr Muhammad Tahir-ul-Qadri, in his keynote address after Mughrab prayers, would announce next course of action vis-à-vis people's revolution and present broad contours of the pro-people, pro-poor political system. He would throw light on political scheme of things to include people in the decision-making and national matters besides giving a sense of what would post-revolution Pakistan look like.
It is pertinent to mention here that true to PAT's traditions, the people are holding peaceful protest demonstrations and using their democratic right to press their demands for a prosperous and peaceful Pakistan despite coercive tactics employed by the government.