Denmark: Miraj-ul-Nabi Conference hosted by MWL (Amager)
On 17th of May 2014, Minhaj-ul-Quran Women League organized Miraj-un-Nabi programme for women in Amager. The stage secretary was Naila Jabeen. The programme began with recitation of the Holy Quran by Saddia Noreen, whilst Samina Mir recited Hamd of Allah.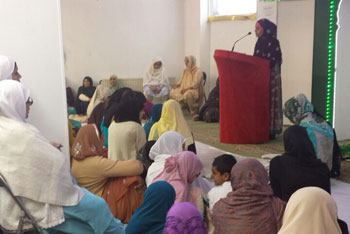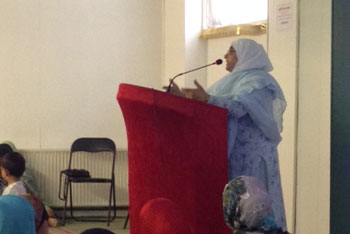 The first Naat of the Mehfil was recited by Sundas, Jannat and Fatima. Then Saeeda Shafiq, Nimra Ali, Khadija Sajjad and Naghma Parveen recited Naats in the praise of the Holy Prophet (SAW). Sidra Jabeen delivered an informative talk about Miraj-un-Nabi in Danish language. She said that Miracle of Miraj was a unique event in human history. It was the special day in the life of the Holy Prophet (SAW). Allah Almighty gifted His beloved (SAW) with prayer to make it even more special and prized.  The keynote speech was given by Nafees Iftikhar. She beautifully narrated various phases of journey of Miraj and threw light on the meeting between the Lover and the beloved (SAW). Mrs. Nafees Fatima mentioned that Women League's mission is to spread Minhaj-ul-Quran's message of peace, interfaith dialogue and harmony. The programme concluded with a collective 'Salaam' by Sidra Jabeen, Saddia Noreen, Arosa Ali and Naila Jabeen, Dhiker and Dua by Mrs. Nafees Iftikhar. Najma Murtaza, President Women League Amager, thanked all delegates for taking time out to attend the conference. All the attendees were served "Langar" before going home.
Reported By: Naila Jabeen.