UK: MWL Training Workshop Midlands
On Saturday 10th May 2014, Minhaj Women League UK Executive Team presented a training workshop for the Minhaj Women League Midlands Zone chapters. Workshop was arranged at Minhaj-ul-Quran International Walsall. Main Aims of the event was to provide training and guidance to the chapters' office holders in different fields of work. Special focus was to build self-confidence in sisters and to make them good communicator. There were six chapters in attendance from Walsall, Birmingham, Sandwell, Derby, Nottingham and Leicester.
The Workshop started at 10am and was divided into 2 sessions.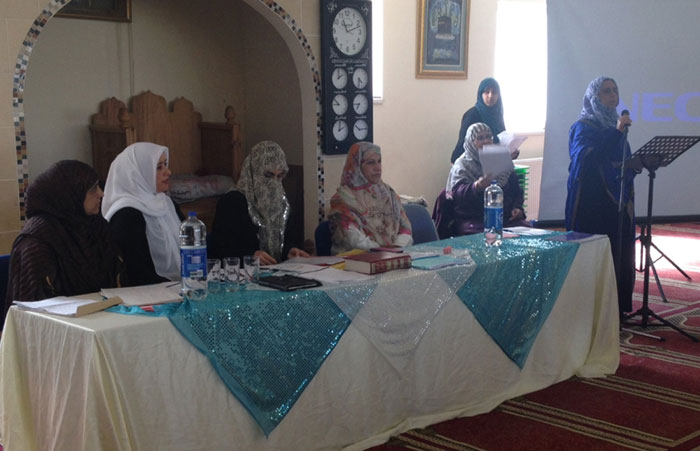 First session
The Workshop started with beautiful recitation of the Holy Quran by Sister Tehreem Zahra followed by praise to The Prophet Muhammad (SAW). Mrs. Musarrat Hussain (General Secretary MWL UK) welcomed the sisters of various Tanzeemats who travelled from their towns/cities for a good cause to gain knowledge and training. Sister Fatima Mash'hadi (MWL UK President) commenced the workshop with a talk on the importance of gaining knowledge and becoming "Khayr e Ummah", then to teach and guide others. She dilated on the importance of purification, self-development, and gaining knowledge. She said that by putting that knowledge into action, you would become a person of good character, good communicator and finally a good role model for your communities.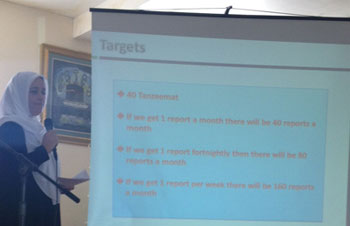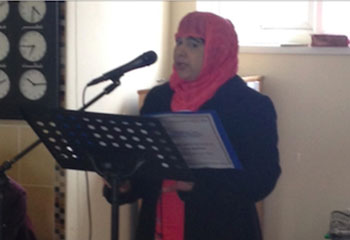 Sister Fatima Mash'hadi then asked each Tanzeemat to work together to study a few pages of the book "Faith" by Shaykh-ul-Islam Dr Muhammad Tahir-ul-Qadri and then do a short presentation on what they learnt. This task was to encourage sisters to study books and build confidence on public speaking. The message from this section was to focus on own self-development so that we can become "Khayr-e-Ummah". Sister Rifat Batool (Durood Sharif Co-ordinator MWL UK) gave a thorough talk on how her personal journey started with "Halaqa e Durood Sharif". She then went into training the attendees with great detail on how to set up the whole structure of "Halaqa-e-Durood Sharif" (individual, family, collective). She, with reference from Quran and Sunnah, gave guidance on the importance of reviving the tradition of reciting Durood Sharif. Sister Rosina Nawaz (MWL UK Dawah Secretary) made a presentation on "What is Dawah", importance of Dawah and how the structure of Dawah work should be conducted in MWL UK, Minhaj Dawah Project, Irfan-ul-Quran Halaqats, Stalls, MQI literature, DVDs and CDs. She spoke about the 5 pillars of Dawah (RIGIS), Recruit, Invite, Give, Inform and Share.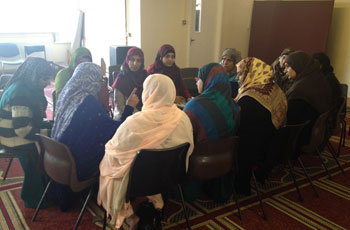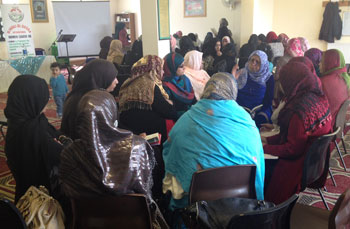 Sister Shamime Jan (MWL UK Media Secretary) gave presentation on the importance of good and efficient media reporting and a structure of how and when to report. She also stressed the great benefits of efficient reporting by MWL UK and the positive impact it will have on MQI worldwide.
Second Session
Sister Rubina Raja (MWL UK Welfare Secretary) delivered a talk on the great rewards attached to giving charity and encouraging others to give charity. She guided the Tanzeemats on different ideas and ways of organising fundraising activities. She also shared the details about MWL UK's project of supporting the orphan children through MWF. Sister Jannat Elahi (Membership Secretary MWL UK) furnished guidance on how to welcome and invite people into becoming members of MQI and on how to keep good communications with members on a regular basis. Sister Fatima Mash'hadi (MWL UK President) then introduced The Surah Ikhlas, its translation, meaning in depth, its benefits and its importance. Finally she put all Tanzemaats into groups to do "role play" of Halaqa-e-Iman, Halaqa-e-Durood Sharif and a Mawlid programme.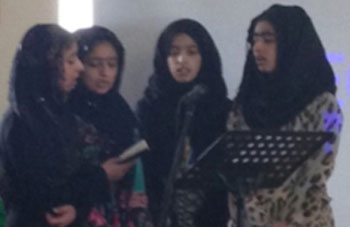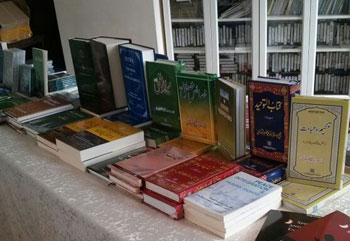 The Media Secretaries at this point had the opportunity of a question and answer session with the MWL UK Media Team and received some training on "Social Media" from Sister Shamime Jan (MWL UK Media Secretary) and Sister Noshaza Hussain (MWL UK Media Deputy Secretary). Sister Naheed Tasawar (MWL Midlands Zone President) concluded the day with achievements so far of the Midlands Zone and also targets set for tanzeemats for the coming year. Sister Rubina Raja (MWL UK Welfare Secretary) as the stage secretary for the workshop kept the whole day together in a good flow. Throughout the workshop Naats and Nasheeds were recited by Sister Ayesha and her group. The Workshop ended at 6pm with beautiful Dua and Salaam on the Holy Prophet (SAW) by Sister Rukhsana Iqbal.
Reported by: Shamime Jan