Denmark: Spiritual gathering held to celebrate Miraj-un-Nabi (PBUH)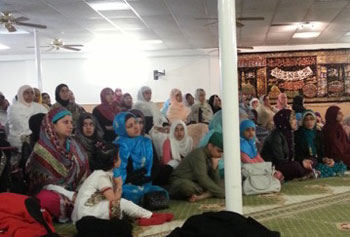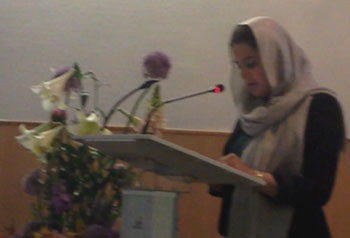 The programme of Meraj-un-Nabi (SAW) for women was held on 18th May 2014 in Valby Masjid of Minhaj-ul-Quran International Denmark. The stage secretary was Samia Yusuf, who conducted the proceeding so beautifully.
The event started by the recitation of the Holy Quran by Mrs. Mubashira Zaheer and afterwards a hamd by Farva Hussain. Then some sisters including sister Zaida, Hina, Vaneeza, Samia and Hania showered praises in the honor of the Holy Prophet (PBUH). One sister, Aisha-ul-Haq spoke very beautifully about the event of Meraj-Un-Nabi in Danish language. In her speech she emphasized some basic facts that happened during the night of Meraj; the meeting with the Prophets, the blessing of the 'Salah' and the moment when the holy Prophet (P.B.U.H.) saw Hazrat Jibrail (A.S.) in his original state. She also explained the meeting of the Prophet (P.B.U.H) with Allah (SWT) and that he was assured by Almighty that his Ummah will be forgiven if they avoid shirk.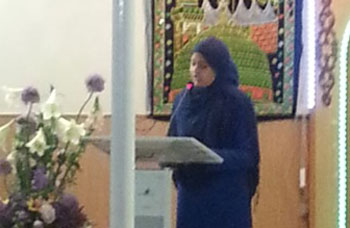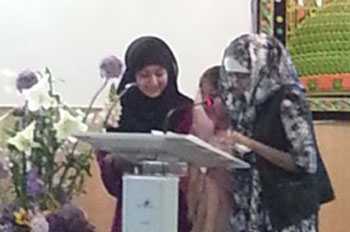 After this excellent speech by Aisha-ul-Haq, several sisters praised the glory of the Holy Prophet (P.B.U.H) one by one including Mrs. Kokab Uppal and Sumaira Saleem. Alama Ateeq Ahmed Hazrvi delivered his keynote speech in Urdu about the gift of 'Salah', which the holy Prophet (P.B.U.H) brought to the Ummah at the night of Meraj. He spoke about the importance of 'Salah' and explained how to perform external ablution and internal purification. At last there was a short speech by the President of Women League Valby, Mrs. Bushra Khalid, in which she thanked all the guests for participating and gave some important information about different classes in Valby. At the end of the program, everybody presented salutations and greetings on the Prophet (P.B.U.H) and then Mrs. Mubashira Zaheer led zikr and Dua. The guests were entertained with food.
Reported by: Anam Arooj Butt