Nothing more ignominious to Pakistan than its PM accused of murder & terrorism: Dr Tahir-ul-Qadri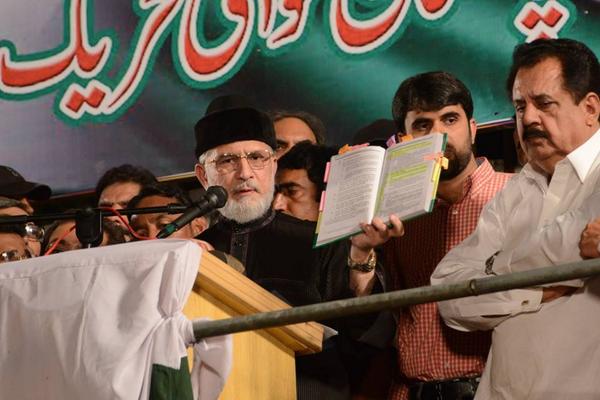 PAT chief Dr Muhammad Tahir-ul-Qadri has said that all opposition leaders have accepted that attitude of government is not democratic. He said that every party accepted in joint session of Parliament that government's attitude lacks Constitution, democracy and rule of law. He said that there was no speech of opposition leaders that is devoid of criticism of government.
Dr Tahir-ul-Qadri expressed these views while addressing participants of revolution march on September 17 in front of Parliament House. Paying a rich tribute to resilience of party workers, he said that there is no example of such an excellent protest demonstration in 35 days. He said that all opposition leaders supported our ideology. He said that Nawaz Sharif should resign from his position like leaders of other democratic countries. He said that people are demanding resignation for last one month against government's unjust, undemocratic conduct and lack of provision of justice.
He said that democracy remains alive as a robust system in the world, adding what we have in Pakistan is dynastic form of government.
Dr Qadri said that present government closed 5000 primary schools. Citing instances where the leaders of various countries chose to resign for the sake of moral and democratic values, he said that the millions of people had also voted for these leaders too. He said that he congratulated the entire nation and media on registration of FIR against the Prime Minister, Chief Minister Punjab and other ministers. He said that unwise advisors and neglect of national issues have locked the Sharif brothers in a blind alley. He said that more than 4000 people fell victim to terrorism in one year, demanding that the PM should resign on this incompetence and loss of precious lives.
Dr Tahir-ul-Qadri said that fair and transparent investigation is not possible as long as Sharif brothers stay in office. He said that Nawaz Sharif is in love with martial law and that his political birth and upbringing took place in martial law. He said that the Constitution does not give indemnity to the Prime Minister and he should be arrested like a common citizen in a murder case. He deplored the fact that three months have gone by today on September 17 since Model Town tragedy but those responsible for it have not been arrested so far.
Dr Qadri asked police officers to stay within confines of law and Constitution, adding that otherwise they would not be able to escape justice for committal of illegal crimes against his workers. He said that police officers are committing oppression on orders of politicians to save their jobs, stating further that they will be held accountable for this repression. He said that workers and women were tortured and legs of some of them were broken on orders of SHO of Attha Hazari, whereas 260 workers were arrested. He said that police picked up 150 workers in Attha Hazari, the flooded Tehsil of Jhang and police also got away with 10 tractors and 20 motor bikes. He said that if government wants meaningful dialogue, it should first end crackdown on our workers across Punjab.
PAT chief said that we demand constitution of a high-powered Commission consisting of Supreme Court judges and experts of international repute to probe reasons of current floods. He asked as to where have Rs. 57 billion allocated for flood prevention gone and why were precautionary steps not taken? He said that the Pakistani nation has woken up for the first time for their rights. If they did not get their rights, there will be no one to own Pakistan and all institutions will be responsible for this sorry state of affairs, he added.
Dr Qadri said that the rulers approved 'Charter of Jokes', not 'Charter of Democracy' through 'Muk Muka' so that their corruption is not exposed. He said that corruption cases of rulers are pending in NAB. He said as to why opposition should not support them because all are bathing together in a sea of corruption. He said that those talking of transparency should have the courage to open a corruption case of Rs. 24.25 billion lying in NAB against Sindh government. He said that corruption of Rs. 8 billion was done in TDAP case and it has been two years and not even a single penny has been recovered. He said that Pakistan can't progress in any area except in corruption as long as present rulers stay in power.
Dr Tahir-ul-Qadri demanded that the report of Inquiry Commission that probed floods 2010 should be made public and those held responsible should be exposed. He also demanded that a high-powered JIT consisting of representatives of ISI, IB and courageous police officers should be established for investigation into Model Town and Islamabad cases. He said that the PM, CM Punjab and other nominated accused will face capital punishment tomorrow if not today, adding that they cannot escape law and justice. He said that the PM has no right to stay in power after registration of murder cases against him on orders of judiciary.
Dr Tahir-ul-Qadri said that nothing is more ignominious for the country than the fact that the incumbent PM is an accused in murder and attempt to murder and terrorism cases. He said he against whom two cases of murder and terrorism have been registered has no right to stay in power. He further stated that local police should not probe Islamabad tragedy because it has been nominated as an accused in the case. He demanded that a high-powered JIT should be set up for the purpose of investigation.
He said that if nominated accused were not arrested, then people will be forced to say that there were two different sets of laws for the powerful and the weak. He said that the PM, CM Punjab and other accused should immediately be arrested, adding that if police cannot do it, then law enforcement agencies should do the job. Dr Qadri said that as far as he recalled, it is for the first time in the history of Pakistan that murder and terrorism cases have been registered against sitting rulers. He said that the case against Pervez Musharraf is not just and fair. Rather, it is revenge of Nawaz Sharif.