PAT condemns issuance of notice for cancellation of Idara Minhaj-ul-Quran's registration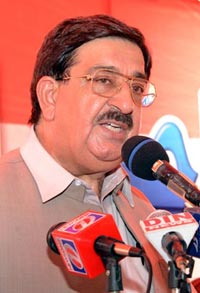 PAT Secretary General Khurram Nawaz Gandapur has said that we are saddened to learn about our political opponents' lack of civility and mannerism. He said that our political opponents have neither morality nor any value system, adding that police touts, informants and government officers are engaged in character assassination campaign against PAT and MQI leadership and the party. He said that if there is anything called democracy and law present in the country, then the Election Commission should send a notice to the Prime Minister and the Chief Minister enquiring for which services were they gifted with bullet- and bomb-proof costly cars and by who? He said that both Sharif brothers have mentioned gifts of costly cars in the documents but did not reveal the names of those who gifted these.
Khurram Nawaz Gandapur said that he belongs to a tribal family where enmities take place and pitched battles fought but it never happened that propaganda is carried out to throw dirt on the honour of your opponent or state resources used to settle personal scores. He strongly condemned the issuance of notice by Registrar Office for cancellation of Idara Minhaj-ul-Quran's registration and said that Minhaj-ul-Quran is the only forum which is raising effective voice against terrorism throughout the world at intellectual and scholarly level and its message of peace and interfaith harmony is getting wide acceptance. He said that issuance of cancellation notice at the behest of the Punjab government proves one thing that it is running a fake and duplicitous campaign against terrorism. He said that we are convinced that 'Sharifs' of Punjab are actually supporters of terrorists from inside; otherwise instead of issuing notice to an organization working against terrorism, its services would have been lauded.