A woman named Momina used for character assassination of PAT leadership: Spokesperson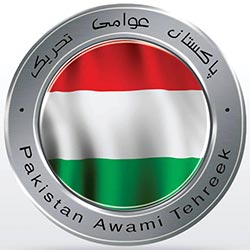 A spokesperson of Pakistan Awami Tehreek (PAT) has said that the Lahore Sessions Court has dismissed the petition for registration of an FIR against the PAT leadership filed by an unknown woman by the name of Hajan Momna, for which we are thankful to the court. He said that the woman could neither prove herself to be member of either PAT or MQI nor did she appear before the honourable court despite repeated summons, which proves that she was actually used by some unknown elements to defame PAT and its leadership under a carefully calibrated strategy.
The spokesperson said that the PAT lawyers submitted documents in the court of law proving that no woman by the name of Hajan Momina was ever member of the PAT or MQI and she was used for character assassination and media trial of PAT and its leadership for political objectives. He said that copies of a number of FIRs registered against her over her questionable character were also presented in the court, which showed that she did not enjoy good repute.
The spokesperson said that Special Branch of Police used the woman against PAT, which is condemnable. He reminded police that its core job is to work for mitigation of crime, not doing illegal bidding of rulers and bringing the noble people into disrepute under trumped-up and baseless allegations. He said that participants of the revolution march, of which women were a large number, voluntarily became part of the sit-in equipped with the passion to change the corrupt and elitist system. He said that these were the people who joined the caravan of Dr Tahir-ul-Qadri out of their free will and were ready to give every sacrifice, asking how such people can demand compensation when they were more than willing to sacrifice their life for the cause.
The spokesperson further said that this negative and petty campaign was run at the behest of the Punjab government and the central office for this character assassination campaign was located in the head office of special branch of police. He asked the Punjab government to stay away from continuing with the vindictive actions against PAT leadership and workers, adding that no tactic of the rulers can make the PAT deviate from the path of seeking justice nor can the perpetrators of Model Town tragedy be forgiven. He said that PAT reserves the right of taking a legal action against the fake woman and the masterminds of this heinous conspiracy.