UK: Muslims protest sacrilegious caricatures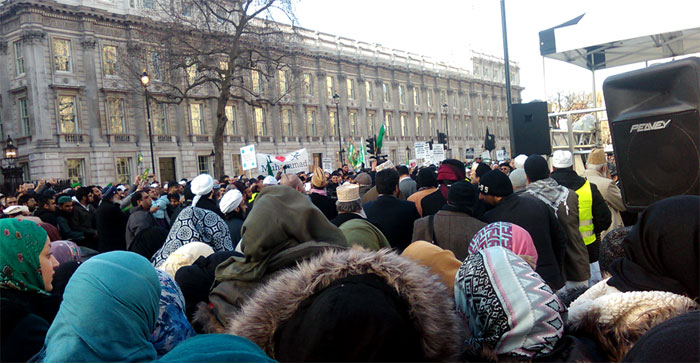 On the Saturday 8th of February 2015, a mass demonstration was held in central London, in order to speak out against the Satirisation of Prophet Muhammad (SAW). The protesters gathered yards from the Cenotaph which commemorates those who gave their lives in wartime for freedom. A host of Urdu and English speaking Islamic figureheads, from across various mosques in England, shared their views on this issue.
Thousands of people flocked to the protest in order to express their anguish and feelings of betrayal over the abuse of the 'Freedom of Speech' right. The fervour and zeal of the crowd emanated through their passionate cries 'Allahu Akbar' and 'Ya Rasool Allah'. People also held up pickets and displayed posters with varying slogans such as 'Charlie and the abuse factory' and quotes from famous leader such as Mahatma Ghandi and Napoleon Bonaparte, who praised the Prophet (SAW). It was announced, a petition against the publication of the Charlie Hebdo, had successfully reached over a hundred thousand signatures, and is to be presented in parliament. The programme was brought to an end by the recitation of Naats to express the love for the Prophet (SAW). This was then followed by Dua and Salaat-o-Salaam which everyone sang together.
Reported by Shaheen Akhter (MWL Media Secretary Birmingham)