Islamabad Mehfil to Welcome Rabi ul Awal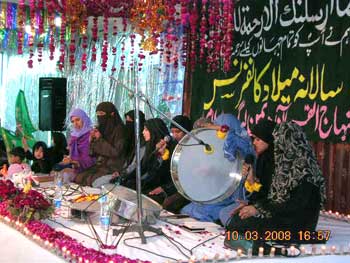 Minhaj-ul-Qur'an Women League Islamabad celebrated arrival of Holy month of Rabi-ul Awwal on Monday, 10th March, 2008. This remarkable program was organized at Check-Inn hotel, Islamabad. This was the 10th annual programme organized by Minhaj-ul-Qur'an Women League Islamabad and more than 3,000 women attended this program, which has become a tradition in the Capital of Pakistan. Central Director Women league Mrs. Farah Naz attended the programme as a chief guest along-with delegation of Naat council from Minhaj College from women.
The outstanding gathering & scope of the program had a good media coverage. Indus Television covered it in its evening News Bulletin on the same day and more than 10 widely circulated Newspapers covered this event in their 11th March publication. A resolution carrying following points was passed from the platform of Minhaj-ul-Qur'an Women League unanimously:
The day of birth of Muhammad (PBUH) is a day of protection and security of rights of the humanity and especially of Women.
Sanctity of the Prophet Muhammad (PBUH) is associated with the sanctity of the women.
Emergence of the Holy Prophet (PBUH) in this universe is a bright sign of dignity to women.
In the end, all of the women promised that this year each and every moment of this Holy month would be celebrated more gloriously so that all could witness the supreme love and attachment we have with our beloved Prophet (PBUH).
By: Saima Mukhtar
Islamabad.