Norway: Mawlid Conference 2016 held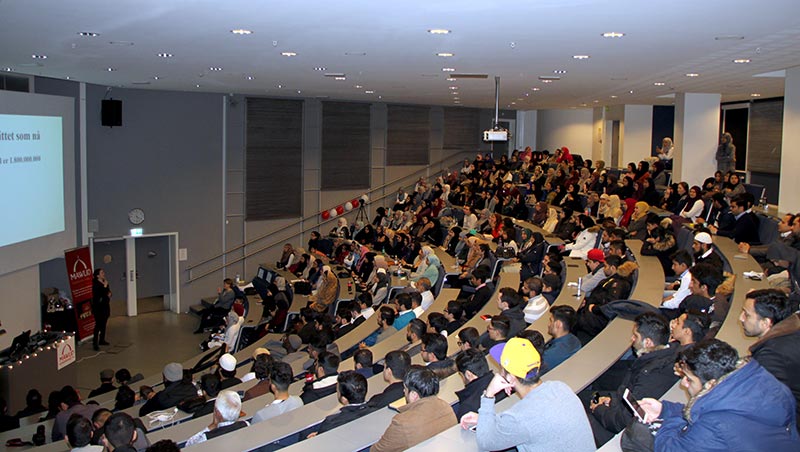 Minhaj Youth League hosted their 6th Mawlid Conference on 27th of February at the University College of Oslo and Akershus. More than 300 youth participated in the event. This year, guests were Shaykh Mahmoud Jalloul from a local mosque in Norway called Tauheed Mosque, a young and talented speaker from UK – well-known student of Shaykh ul Islam Dr. Muhammad Tahir ul Qadri: Shaykh Bilal Hussain, the famous Milad Raza Qadri to perform Nasheed and the comedian Azhar Usman from USA.
The theme for this year's Mawlid was "Celebrating Mercy" with the main focus on promoting the peaceful message of Islam, and how to follow the Prophetic (saw) message in the 21st century, especially about integration and contribution to the society.
The host of the programme was sister Sana Yaqub from Minhaj Youth- Sisters Wing. The Conference started with recitation from the Holy Quran by respected brother Awais Saqib, and was followed by some Hadith-narrations from two young brothers from Minhaj Education Centre in Oslo.
The first speech was delivered by the local Imam – Shaykh Mahmoud Jalloul, and his topic was "From IS to Muhammad (SAW). His speech contained different aspects of Islam related to values in society and norms. And that Islam wants humankind to be security for each other, Muslims and non-Muslims.
The speech was followed by a short presentation about MYL Norway's activities and how people could joint his organization. Brother Hayat ul Mir also conducted an online quiz with the participant from the website Kahoot.
The main speech of the day was by Shaykh Bilal Hussain from Minhaj- ul- Quran and seekers UK. His topic was "Tell me about Muhammad (SAW)". The message was that the people should connect themselves to the Holy personality of the Prophet as this is the best way of knowing him, especially in this time where Islam is being hijacked by extremists.
During the break all the participants visited different stalls arranged by the MYL, and bought books of Shaykh-ul-Islam. Among the books sold was the Curriculum against radicalization, the Fatwa translated into Norwegian and the Noble Quran in Norwegian language. MYL had also managed a timeline of the life of the Holy Prophet (SAW) in the form of a banner, which the participant could see and learn from.
Right after the break the program continued with some great Nasheeds from Brother Milad Raza Qadri, who recited Nasheeds in Urdu and English. The event was concluded by Dua by Shaykh Bilal Hussain. During the evening 17 of the participant decided to join MYL Norway and became its members.