Rulers want to use TORs as trap: Dr Tahir-ul-Qadri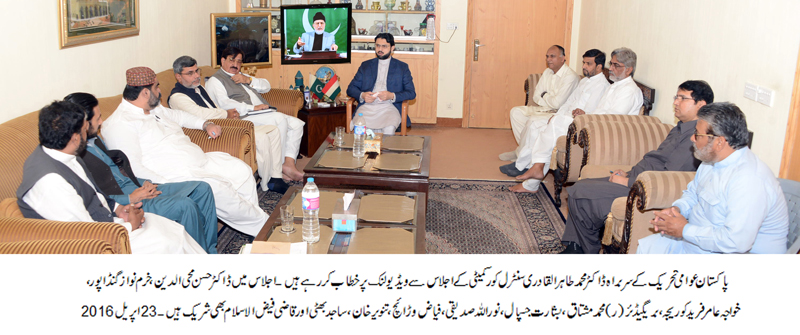 Addressing the central core committee meeting of the party, PAT Chairman Dr Muhammad Tahir-ul-Qadri has said that the PM wants to entangle the Chief Justice of Pakistan in the web of the Terms of Reference of the judicial commission. He said that such TORs have been designed that they will not be able to lead to any conclusion in the coming five years. He said that the Commission should investigate the matter in the light of the Panama leaks and the PM should become part of the investigation after tendering resignation. He said that NAB, FIA and FBR should also be asked to probe other economic crimes.
Dr Hassan Mohi-ud-Din, Khurram Nawaz Gandapur, Khawaja Aamir Fareed Koreja, Brig (r) Mushtaq, Fayyaz Warraich, Basharat Jaspal, Noorullah Saddiqi, Sajid Bhatti, Tanveer Khan, Raja Zahid and Qazi Faiz-ul-Islam were present on the meeting.
The PAT Chairman said that revelations made by the Panama papers are proven. He said that the PM has resorted to hurling threats at the media and political opponents in the absence of effective system of accountability.
A committee was set up under Khurram Nawaz Gandapur to reach out to other political parties, which will consist of Major (r) Muhammad Saeed, Khawaja Aamir Fareed Koreja, Basharat Jaspal, Fayyaz Warraich and Brig (r) Mushtaq. The core committee also decided to convene an APC on the Model Town tragedy during the second week of May. The army was praised on carrying out effective operation against Chotu gang and sacking of IGP and the Law Minister was demanded on defective and poor planning and martyrdom of the police officials.
A resolution adopted on the occasion condemned increase in duration of the load-shedding. It was observed that the government's claim of increasing generation and decreasing load-shedding has been badly exposed.
Speaking in the meeting, Dr Hassan Mohi-ud-Din Qadri said that we want that the judicial commission concludes its inquiry within stipulated time. Otherwise tehse rulers are adept at getting clean-chits.