MQI imparting education in contemporary & religious sciences under one roof: Dr Hassan Mohi-ud-Din Qadri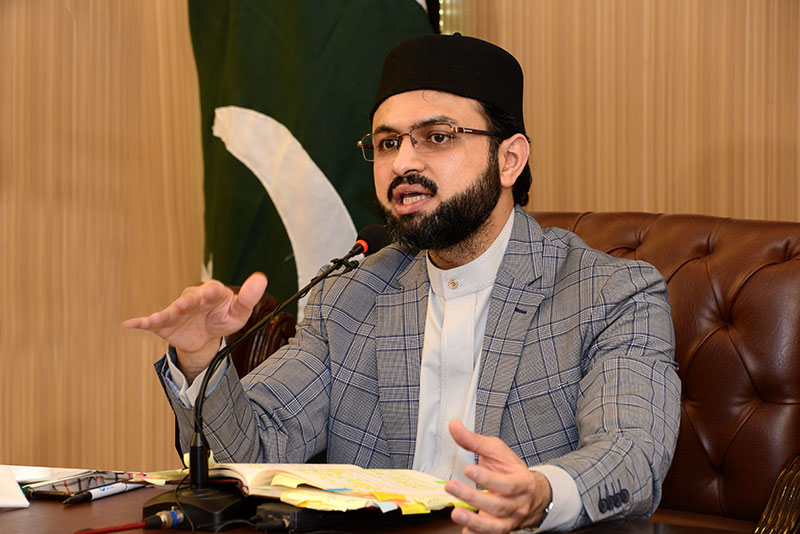 Dr Hassan Mohi-ud-Din Qadri, chairman of the MQI Supreme Council, has said that the educational model being followed at the COSIS that combines the modern and ancient sciences is being lauded in the world. The secret to Pakistan's progress lies in imparting both contemporary and religious education under one roof. He said that the MQI is setting up educational institutions of excellence for the construction of an educated society. He said that over two thousands graduates of COSIS are doing their vital duty in important positions inside as well as outside of Pakistan.
Dr Hassan Mohi-ud-Din Qadri expressed these views in a special sitting here yesterday. He said that it is our challenge that the kind of quality education and other facilities such as food and boarding that our educational institutions provide with low dues is not available anywhere else. He said that we are providing excellent education and other top-level facilities with a passion to serve the nation.
Talking about individual characteristics of COSIS, he said that a student who gets admitted to this institution has the facility to get his education up to PhD without any hurdle, adding that this model of education is being implemented in 12 allied colleges of COSIS as well as those in Denmark, Norway, Manchester, Holland and Sweden. He said that we are extending its scope to Karachi, Narowal and Bhurban.
Dr Hassan Mohi-ud-Din Qadri said that it was vision of Dr Tahir-ul-Qadri, the founding leader of the MQI that the contemporary sciences should be taught along with the Islamic sciences as part of one curriculum under one roof. He said that it was under this vision that the COSIS was brought into being, which has won applause among all strata of society due to excellent education it is imparting to its students. He said that male and female students belonging to well-to-do families are also taking admission in the COSIS. He said that not only does one end up being a religious scholar after completing education at COSIS but also has a successful career ahead as engineer, doctor, IT expert, economist, bankers and professors, adding that the graduates of the COSIS are bringing laurels to their alma mater, families and the country.
The Chairman of Supreme Council said that a boarding facility for 200 students has been completed in Lahore that provides such facilities as library, research centre, computer lab and internet TV. He said that MQI is a global organization of research which is dedicated to knowledge creation. He said that the MQI has a unique distinction of being a role model in the country in terms of increasing literacy and setting up top-notch educational institutions. He said that 12 PhD scholars including 7 foreign PhD qualified teachers and 20 M. Phil degree holders are engaged in teaching at the Minhaj University Lahore. He also mentioned E-learning project being run under the aegis of COSIS under which over 400 students belonging to 25 countries of the world are taking online courses related to ten Islamic subjects.
Dr Hassan Mohi-ud-Din Qadri said that the millions of students do not go to schools and the Pakistan's educational sector has been going down due to lack of proper funding and other issues. He said that despite passage of 70 years, Pakistan has only been able to achieve a literacy rate of just 58% officially which is the lowest in the region. He said that Pakistan spends the least of its GDP on education in entire South Asia. He said that it is unfortunate that the governments in the past would have funding available for luxurious infrastructure projects but would also invoke shortage of funds when it came to education, stating that practically such an attitude could be termed as the negation of the importance of education.
Dr Hassan said that in order to highlight the importance of education as a game-changer in the life of a nation, the MQI not only ran an awareness campaign but has also taken it upon itself to establish institutions for this purpose. He said that in addition to COSIS, more than 600 schools and colleges have been set up throughout the country under Minhaj Education Society where more than ten thousand teachers are busy imparting education to over one lac students belonging to middle and lower middle classes. He further said that the welfare education projects also provide job opportunities to the youth. 'Minhaj University Lahore is an excellent seat of learning that provides educational scholarships of worth Rs. 60 million and it is the only university in the private sector that was awarded Global Governance Award in Malaysia for providing low-cost but quality education to the people of all classes. He said that we have focused on education of female population, stating that Minhaj Women College is quenching the thirst of knowledge of women and girls besides giving them awareness about their rights in society. He said that it is an article of faith with us that Pakistan can progress only when it will start imparting a joint education of religious and contemporary sciences.