The oppressed will be the ultimate winners: Dr Tahir-ul-Qadri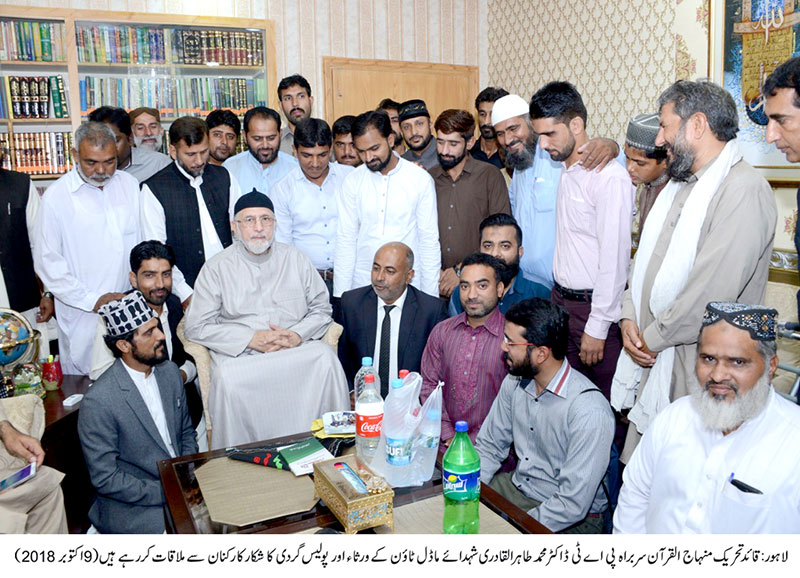 PAT Chairman Dr Muhammad Tahir-ul-Qadri held a special meeting with the family members of the martyrs of Model Town tragedy and the workers against whom a fake FIR was lodged by the Police in the wake of the tragedy on June 17, 2014. The workers have attended 304 hearings in the anti-terrorism court in the fake FIR so far.
Talking to the workers wronged by the political, Dr Tahir-ul-Qadri appreciated them and their families for steadfastness. He said that we are waging a struggle against oppression and will not rest till we get justice for the martyrs. He said that Allah has great rewards for those who try to get rights for the oppressed people. He said that the sacrifices of those who rendered sacrifices against the exploitative system cannot be forgotten.
Dr Qadri said that the police registered a fake FIR No. 510 against the PAT 42 workers and went to the extent of accusing them of killing and injuring their own brothers. He said that the example of ferocity with which the lie was spoken cannot be found in history. He said that the previous oppressive rulers used stick and carrot to intimidate, scare and harass the workers of the PAT in an attempt to win them over or silence them. He lauded the workers for rejecting the offers of millions of rupees and stated that this act proved that there are workers in the land of Pakistan who know how to lay down their life for the sake of an ideology and that they cannot be bought, come what may.
The PAT Chairman said that what a more illustration of accursed and rottenness of the current system can there be than the fact that the wronged workers have appeared in the anti-terrorism court for 304 times but the masterminds and perpetrators of the tragedy remain at large. He said that as long as the exploitative system remains in force, the oppressed will continue to appear in courts. He asked the response as to why 42 workers of the PAT have been attending the hearings and for what crime. He said that those who should have been provided justice are being humiliated. Their jobs were lost and even one of the workers lost his life during this process. He said that Model Town tragedy is a crime against humanity. He said that we are waging a legal battle against the oppressors and it is the oppressed and the poor who will be the winner at the end.