Minhaj Welfare Foundation knotted 23 couples in righteous Collective Marriages Ceremony with simplicity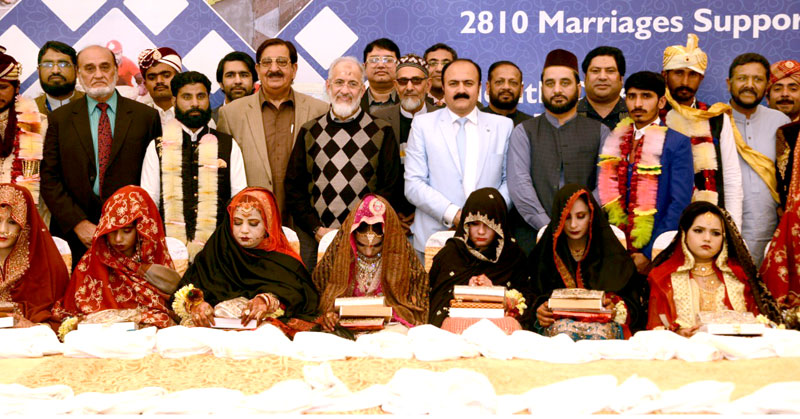 Minhaj Welfare Foundation as per the righteous tradition of Minhaj-ul-Quran International. This year in a grace-full ceremony of Collective Marriages wedded 23 couples inclusive one Christian Couple on March 15th. The ceremony was kept restricted to few guests and congregation with simplicity due to the prevailing threat of Coronavirus. The dowry worth Rs. 175000/- was given to each couple along with the gifts of wristwatches (Grooms), Purse and jewellery set (Brides). The Nikah of the Muslim couples was solemnized by the religious scholars belonging to Minhaj Ulama Council whereas the marriage rites of the Christian couple was performed according to their religious custom.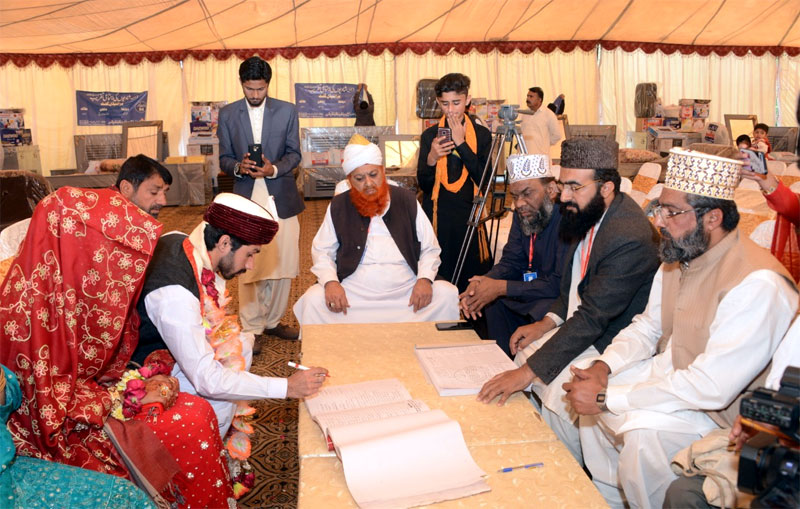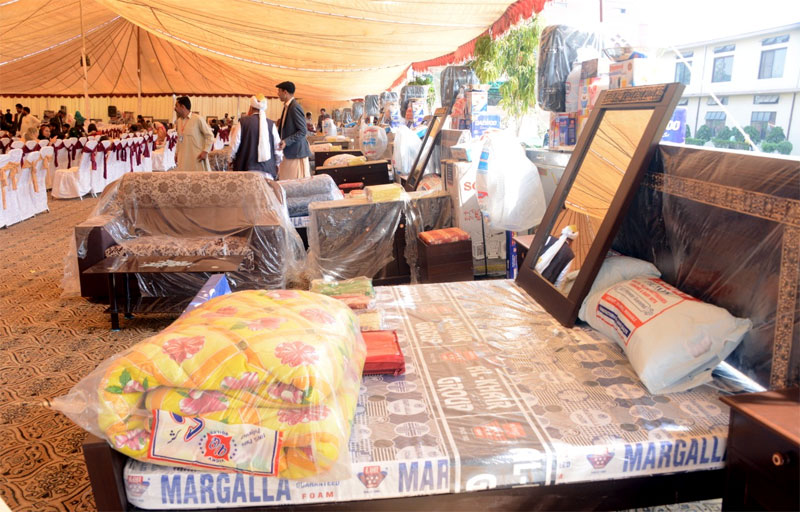 Shaykh-ul-Islam Dr. Muhammad Tahir-ul-Qadri in his message congratulated the newly-weds on the start of a blissful phase of their life. He said that the foremost obligation of an Islamic state is to serve humanity without any discrimination of caste, creed and colour. We have been beholden to Almighty that enabled MQI to serve the humanity and may Allah bless others with financial resources to make this world a better place for humans to live and grant us faith in omniscient to combat natural calamities like Coronavirus.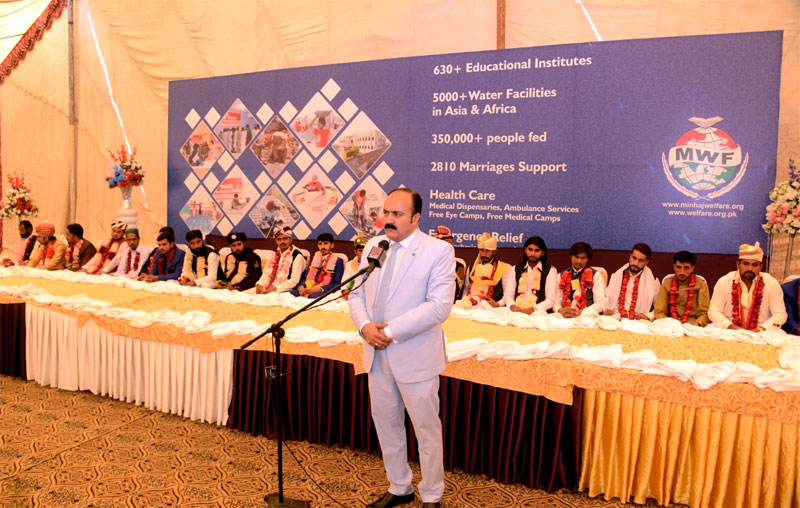 Speaking on this occasion, Syed Amjad Ali Shah, Country Director MWF while lime lighting the services and contributions of MWF said that more than 2800 couples belonging to the deserving families had been privileged as per the vision of Prof. Dr. Tahir-ul-Qadri under the Flag Ship of MWF during the last 17 years. He further said educational stipend worth millions of rupees have been given to the deserving students and more than 5000 clean drinking water projects had been completed. He said 50,000 families were provided food during catastrophes. The objective of Minhaj-ul-Quran by dispensing social responsibility is to show utmost kindness to downtrodden of societies as per doctrines of the Quran and Sunnan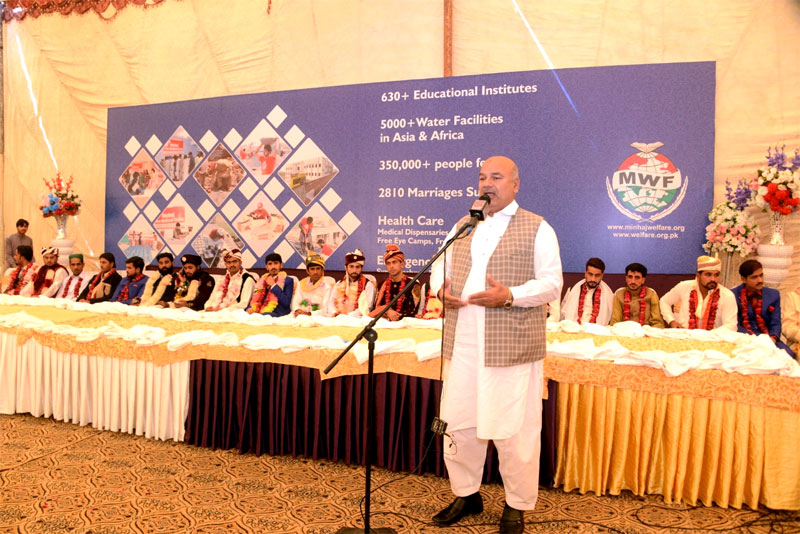 PTI leader, Ghulam Mohi-ud-Din Dewan who especially graced the occasion expressed his cheerfulness on the welfare projects of MWF and the dynamic mission of Shaykh-ul-Islam Dr Muhammad Tahir-ul-Qadri that we have to see Allah within ourselves and strive to believe others too in our selves. When we see everyone as a single embodiment of the God, peace would emerge within us by and by and the world over.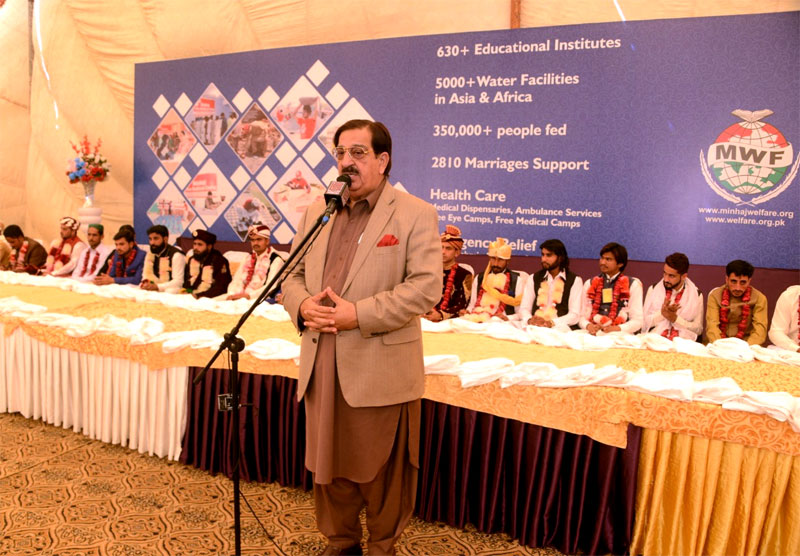 Mr. Khurram Nawaz Gandapur, Secretary-General of (MQI) congratulated the newlyweds with blessings of Almighty and prayed that Allah bestows us with the strength to face the epidemic of Coronavirus. He said that the mission of Minhaj-ul-Quran serves to humanity. To bring hope and life to the downtrodden and the disheartened and to flourish the message of peace and harmony which is the true spirit of Islam and essence of Minhaj-ul-Quran International. He paid rich tribute to all the donors for their virtuous gestures of contribution in collective marriages.
Mr.Abid Aziz from Holland, one of the founding members of the collective marriage was awarded with a special shield in recognition of his symbolic services for humanity.
Distinguished guests who participated in the collective marriages were, Mr. Ghulam Mohi-ud-Din Dewan, Mr.Khurram Shahzad, Mr.Malik Wazir, Mr. Malik Jahangir , Mr.G. M. Malik, Mr. Bashir Khan Lodhi, Mr. Noorullah Siddiqui, Mr.Shahid Latif, Mr.Jawad Hamid, Mr.Allama Mir Asif Akbar, Mr. Sohail Raza, Rana Fayyaz Ahmad, Mr. Abdur Rehman, Mr. Shafiq Raza Qadri, Haji Muhammad Aslam, Mr. Imran Bukhari, Sh. Ali Raza Tiget and Mr.Tahir Bhatti.