MQI Lahore holds the Imam Hussain (as) Conference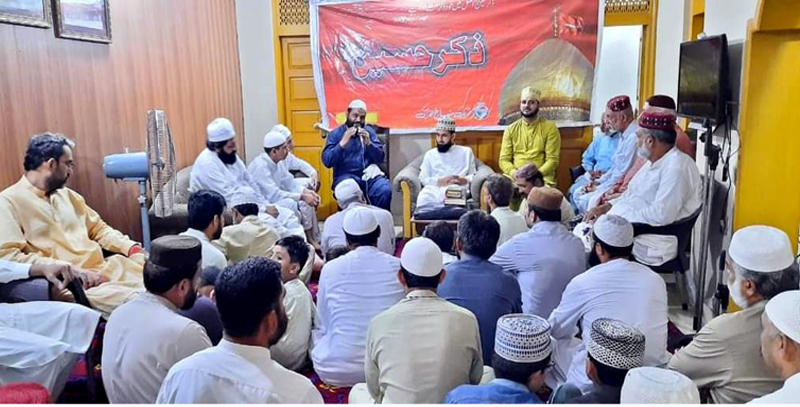 An Imam Hussain (as) Conference was held under the banner of MQI Lahore (PP 153). The religious scholars threw light on the services, contributions, and sacrifices of the Imam. They also highlighted the philosophy of martyrdom. Those who recited Naat and sang praises of Imam Hussain (as) for his courage, bravery and patience on the plains of Karbala added to the sanctity of the event.
People belonging to various walks of life attended the Conference. The prominent among them included Ishtiaq Hanif Mughal, Sahibzada Sufi Muhammad Qaim Sabir, Hafiz Ubaid-ur-Rahman, Salah-ud-Din Sultani, Zafar Iqbal Qadri, Hafiz-ur-Rahman Khan, Haji Abdul Khaliq, and Hamza Rafique Randhawa.
Addressing the Conference, Allama Ahsan Owais Mustafavi said that Imam Hussain (as) taught a lesson of defiance to humanity against oppression and cruelty. He said the members of the Prophet's household and the holy companions are the lights of faith, and unity and reverence and love for them is the requirement of our faith. He said the example of steadfastness and firmness displayed by the martyrs of Karbala will continue to guide and inspire humanity till the Day of Reckoning.
Allama Ahsan Owais Mustafavi further said that Hazrat Imam Hussain (as) wrote a history of courage and bravery that is a metaphor of courage, resilience, and commitment to the ideals of truth, justice, and human rights. He said that MQI has worked hard to forge unity in the ranks of various schools of thought by promoting interfaith and inter-sect harmony. He said the message of the supreme sacrifice offered by Hazrat Imam Hussain (as) is about peace and standing up to tyranny and oppression.