Dr Tahir-ul-Qadri grieved over the death of Hazrat Pir Khawaja Hameed-ud-Din Sialvi
حضرت خواجہ حمیدالدین سیالوی (سجادہ نشین سیال شریف) کے انتقال پر دلی افسوس ہے اللہ تعالیٰ مرحوم کے درجات بلند فرمائے اور انکی دین اسلام کیلئے انجام دی جانے والی خدمت قبول فرمائے، اللہ تعالیٰ سوگوار خاندان کو یہ صدمہ برداشت کرنے کی توفیق دے، غم کی اس گھڑی میں برابر کے شریک ہیں

— ڈاکٹر طاہرالقادری (@TahirulQadriUR) September 17, 2020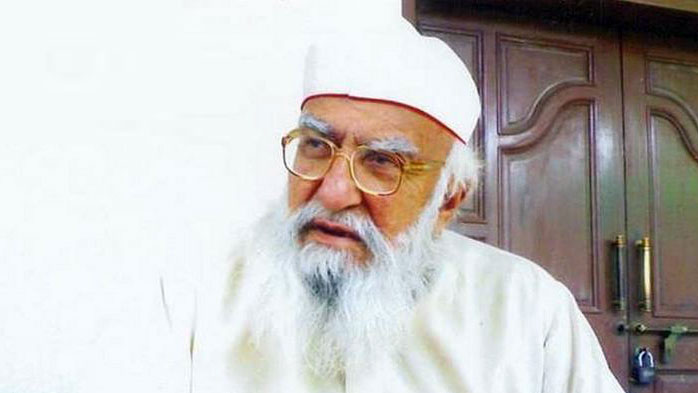 Shaykh-ul-Islam Dr Muhammad Tahir-ul-Qadri has expressed his deep sense of grief and sorrow on the death of Hazrat Khawaja Hameed-ud-Din Sialvi, Sajjada-e-Nasheen of the shrine at Sial Sharif. He paid rich tributes to the religious and spiritual services of Khawaja sahib and said that ever since he heard the news of his passing away, he has been greatly grieved.
Dr Tahir-ul-Qadri expressed his heartfelt condolences to the family and followers of Hazrat Khawaja Hameed-ud-Din Sialvi sahib and said that he had dedicated his life to the service of the religion and humanity. He said the services of Khawaja sahib will be remembered for a long time to come. He said his death is a great shock for everyone as the country has been deprived of a great spiritual personality who had such a transformative influence on the lives of the people.
He prayed to Allah Almighty to rest the departed soul in peace. He said that we share the sorrow and grief of the bereaved family and the followers of Hazrat Pir sahib and are heartbroken at this sad demise. Meanwhile, Secretary General MQI Khurram Nawaz Gandapur, Engineer Muhammad Rafique Najam, Allama Rana Muhammad Idrees, Mir Muhammad Asif Akbar, Hafiz Ghulam Farid, and others also expressed their condolences on the death of Pir sahib and prayed to Allah Almighty to rest his soul in eternal peace.