MQI and JI reach consensus on need to change system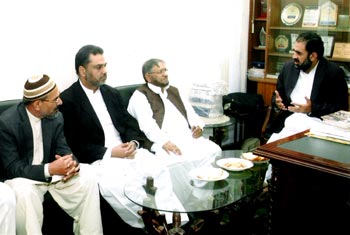 Farid Ahmad Paracha, central Deputy Secretary General of Jamat-e-Islami, called on Dr Raheeq Ahmad Abbasi, Secretary General of Minhaj-ul-Quran International in Model Town the other day. Sheikh Zahid Fayyaz and G.M. Malik were also present on the occasion.
Expressing their deep concern on the prevailing situation in the country, both leaders agreed that change had become inevitable and decided to continue consultative process in future. Both leaders further agreed that the country was passing through a critical juncture and there was no hope of any improvement in relations without bringing about drastic changes in the current electoral system. They also underlined the need that patriotic forces, seeking to bring about change, should wage joint struggle to realize the dream of change in the country.