Daily Times: Qadri to create Hazara province when in power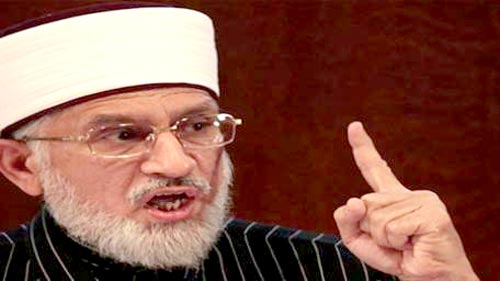 HARIPUR: Pakistan Awami Tehreek (PAT) chief Tahirul Qadri on Friday vowed a Hazara province which will be created in Khyber Pakhtunkhwa whenever his party comes in power.
"Our government will make a new Hazara province in Khyber Pakhtunkhwa," Qadri announced while addressing the participants of the sit-in in Haripur. The PAT chief said that his "Inqulab sit-ins" would continue till all the culprits involved in Model Town tragedy are brought to justice. "Had such incidents occurred in any democratic country, the ruler would have resigned," Qadri said. He reiterated that no blood money would be accepted for the victims of Model Town tragedy.
Criticising the Punjab government, Qadri said that he had to stage a sit-in for months to get registered the case of Model Town tragedy that left at least 14 people dead. The PAT chief further said that the Punjab government is responsible for the incident. "Today's sit-in in Haripur is a 'symbolic funeral' of status quo and soon the nation would witness the 'real funeral' of the government," Qadri said. Responding to his critics, the PAT chief said that he ended his 70-day Islamabad sit-in to transform it into a countrywide movement against the government. "I have not ended the Islamabad sit-in, rather I spread it across the country," he said.
Source: www.dailytimes.com.pk
Source : http://www.dailytimes.com.pk/national/25-Oct-2014/qadri-to-create-hazara-province-when-in-power