PAT all set to show strength in Bhakkar today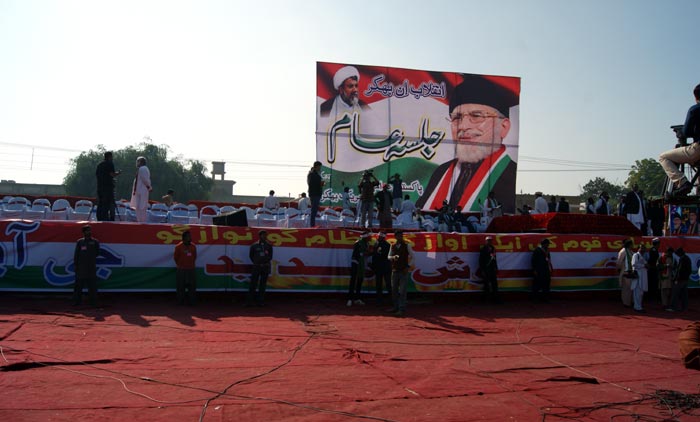 Bhakkar: Pakistan Awami Tehreek (PAT) is set to stage a massive Jalsa-e-Aam at Jameel Stadium in Bhakkar on Sunday (today). The arrangements for the public gathering have been completed.
PAT chief Dr Muhammad Tahir-ul-Qadri, Chief of MWM Allama Raja Nasir Abbas, Sunni Ittehad Council (SIC) President Sahibzada Hamid Raza, Malik Nazar Abbas Kahawar (Candidate PP48 Bhakar) and leaders of different political parties will address the party gathering in Bhakkar.
The party chairman is expected to make key announcements in the rally.
Dr Qadri will be arriving very soon at the revolutionary public gathering at Jameel Stadium, Bhakkar #BhakkarGoes4PAT pic.twitter.com/8BRDRCgTq3

— PAT Official PK (@PATofficialPK) November 23, 2014
Dr @TahirulQadri , with his convey, on his way to Bhakkar for Jalsa at Jameel Stadium. #BhakkarGoes4PAT pic.twitter.com/bcYMGaLYLp

— PAT Official PK (@PATofficialPK) November 23, 2014
Ariel view of the Jameel Stadium Bhakkar #BhakkarGoes4PAT #InqialbInBhakkar pic.twitter.com/S7fl2krck6

— PAT Official PK (@PATofficialPK) November 23, 2014
Bhakkar is all set for Jalsa e Aam. Dr Qadri will be the keynote speaker. #InqilabInBhakkar #TUQ pic.twitter.com/SHDFyKplBG

— PAT Official PK (@PATofficialPK) November 23, 2014