Qadri vows to hold rallies despite ill health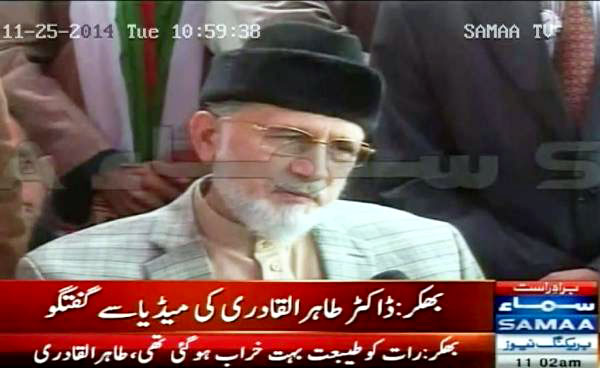 BHAKKAR: Despite his ailment, chief of Pakistan Awami Tehreek (PAT), Dr. Tahir-ul-Qadri, Tuesday vowed to continue his campaign, pledging to give back rights to the people, Samaa reported.
"Although my health doesn't allow me to travel and address public meetings we have scheduled in various towns, I promise to comeback soon and be with you after my treatment in US," said an apparently weak Qadri in a mild tone, while speaking to reporters in Bhakkar town of Punjab.
The PAT chief, which retuned Pakistan from Canada last week to resume his anti-government campaign, is diagnosed with heart problems and high blood pressure, prompting him to curtail his political activities and plan to leave for US, but he promises to back home soon.
"I took medicines last night for high blood pressure and spent a sleepless night. Doctors have advised me to take a bed rest but it's impossible in prevailing conditions," he elaborated on his health.
Qadri claimed that teargas shelling on a protest he was leading in August in Islamabad's Red Zone had destabilized his health, but he ignored treatment only to continue his struggle.
There were reports that riot police had used some expired and poisonous teargas shells to disperse protestors led by Qadri along with Imran Khan.
"This is a gift of Islamabad's poisonous gas which has me brought to such circumstances… It affected my eyes and throat and now I have been diagnosed with heart ailment as well… But I deliberately ignored the treatment which might have taken my three to four months," he said.
Qadri said that he would leave for US in couple of days and will be back soon to fight back.
"I will try my best to come back Lahore once getting the treatment. I will address all our rallies scheduled to be held in Karachi and South Punjab cities… I assure you that I will continue to fight for the rights of oppressed and poor masses of this country," said the PAT chief. - Samaa
Source: www.samaa.tv