Minhaj-ul-Quran International, Faisalabad
Minhaj-ul-Quran Intl. Faisalabad has its presence since 1984 with its first official office opening in 1987 in Karkhana Bazar Faisalabad under the supervision of Haji Sheikh Muhammad Rasheed Qadri. At the moment there are a lot of institutions, schools and sale points in Faisalabad. Divisional Secretariat of MQI Faisalabad is located at 3rd floor of Rizwan Badshah Centre, Circular Road Kechehri Bazar.
Dr Muhammad Tahir-ul-Qadri was daily coming to Govt. Degree College Faisalabad from Jhang for 2 years, where he passed his FSc in 1968.
MQI Faisalabad were established its branches in all of its towns and at the district level all of the forums including MWL, MYL, MSM and MWF have its organizational structure as well. PAT is also performing its role very actively.
Minhaj Welfare Foundation (MWF) Faisalabad always organizes mass marriage ceremony for poor families. Recently the 40 couples belonging to poor families tied the knot at a simple yet elegant mass marriage ceremony organized by MWF Faisalabad in December 2014. There are 14 schools running by Minhaj Education Society (MES) in Faisalabad. (listed below) Minhaj Women League (MWL) running an academy for girls at Ghulam Muhammad Abad which is a grooming institution of the area. Minhaj Youth League (MYL) and Mustafavi Students Movement (MSM) are also playing a role for youngsters and students. Pakistan Awami Tehreek (PAT) is performing the awareness campaign among the masses.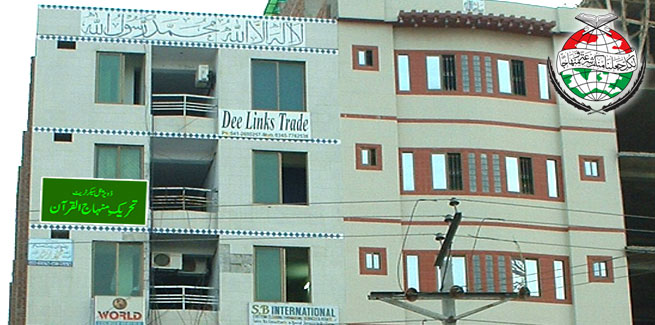 Divisional Secretariat of Minhaj-ul-Quran Intl., Circular Road, Faisalabad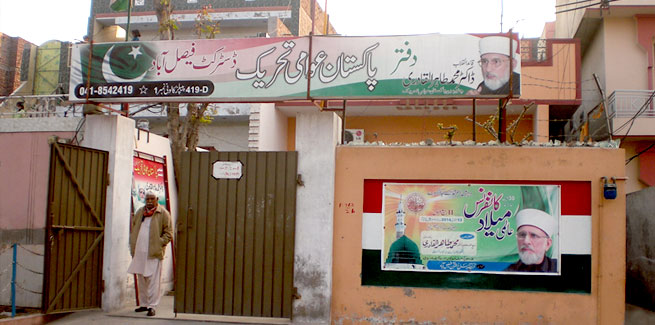 District Office of Pakistan Awami Tehreek (PAT), Peoples Colony, Faisalabad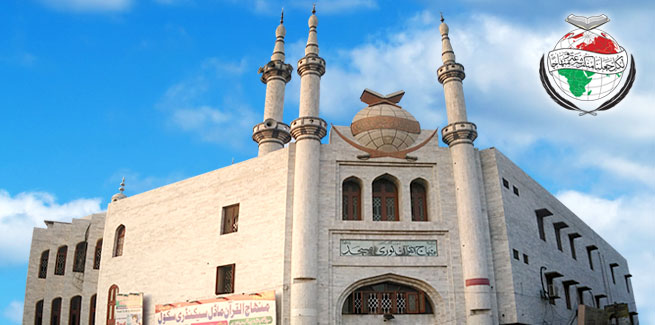 Minhaj-ul-Quran Model Secondary School for Boys, Gulfishan Colony, Jhang Road, Faisalabad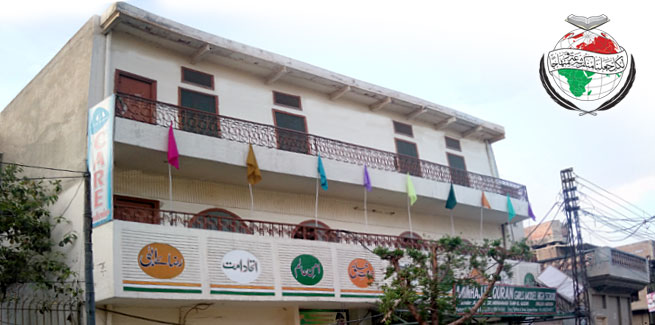 Minhaj-ul-Quran Model High School for Girls (English Medium), 247/A Gulfishan Colony, Faisalabad
Divisional Secretariat of Minhaj-ul-Quran International, Faisalabad
Rizwan Badshah Sentre 2nd Floor, near Kachehri Bazar Circular Road, Faisalabad
041-260-5060
Dist. Office Pakistan Awami Tehreek, Faisalabad
419-D, Peoples Colony No.1, Faisalabad
041-854-2419
Circular Road
Divisional Secretariat
Rizwan Badshah Sentre 2nd Floor, near Kachehri Bazar Circular Road, Faisalabad
041-260-5060
Gulfishan Colony
Minhaj-ul-Quran Sale Centre
Gulfishan Colony Jhang Road, Faisalabad
041-265-2314
G.M. Abad
Minhaj-ul-Quran Girls Academy
Ghulam Muhammad Abad, Faisalabad
Peoples Colony
Dist. Office PAT
419-D, Peoples Colony No.1, Faisalabad
041-854-2419
Saleemi Chowk
MinhajCDs & Books
Madina Center Saleemi Chowk Satyana Road, Faisalabad
041-853-1823
0333-653-5402
Jaranwala
Minhaj-ul-Quran Sale Centre
Ash-Shifa Hospital Circular Road, Jaranwala Faisalabad
0301-715-0863
Gulfishan Colony
Minhaj-ul-Quran Model School (Boys)
Gulfishan Colony Jhang Road, Faisalabad
Gulfishan Colony
Minhaj-ul-Quran Model School (Girls)
Gulfishan Colony Jhang Road, Faisalabad
Rehmat Abad
Minhaj-ul-Quran Model School
Rehmat Abad, Narwala Road, Faisalabad
Gausia Town
Minhaj-ul-Quran Model School (Boys)
Gausia Town Sargodha Road, Faisalabad
Gausia Town
Minhaj-ul-Quran Model School (Girls)
Gausia Town Sargodha Road, Faisalabad
Mamoon Kanjan
Minhaj-ul-Quran Model School
Mamoon Kanjan, Faisalabad
Sumandri
Minhaj-ul-Quran Model School
Sumandri Town, Faisalabad
Mureed wala
Minhaj-ul-Quran Model School
Mureed wala, Faisalabad
Bahmani wala
Minhaj-ul-Quran Model School
Chak 72 RB Bahmani wala, Faisalabad
Gangapur, Jaranwala
Minhaj-ul-Quran Model School
591 GB Gangapur, Jaranwala Town, Faisalabad
Chak 53 GB, Jaranwala
Minhaj-ul-Quran Model School
Chak 53 GB, Jaranwala Town, Faisalabad
Chak 98 GB, Jaranwala
Minhaj-ul-Quran Model School
Chak 98 GB, Jaranwala Town, Faisalabad
Chak 40 GB, Halwara
Minhaj-ul-Quran Model School
Chak 40 GB, Halwara (Baghdadi Town), Faisalabad