Shaykh-ul-Islam Dr Muhammad Tahir-ul-Qadri's message on Christmas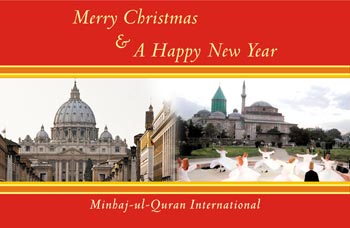 On the occasion of Merry Christmas, I would like to congratulate the Christian community around the world and those living in Pakistan. The day highlights the teachings and message of Jesus Christ. Belief in the Prophethood of Jesus Christ and Bible - the Divine Book, is a part of Muslim faith. Allah Almighty sent him to the world at a time when the world needed love and compassion for humanity and peace.
Today, the world is faced with multiple crises of grave nature. The scourges of terrorism and extremism seem to eat into vitals of our collective ethos and value system. The fundamentalism of varied nature threatens to degrade human civilization. Existence of unsolved international disputes like Kashmir and Palestine and continuous insurgence in Iraq, Afghanistan and some parts of Pakistan is a great danger to the stability of whole region and global peace. The future of succeeding generations cannot be left at the hands of handful bigoted elements who are bent on bringing their respective great religions into disrepute. The dream of global peace will never come true unless followers of both Islam and Christianity come forward in a spirit of cooperation, respect and goodwill to play their due role to discourage such elements and promote peaceful coexistence.
The day highlights the need of promoting interfaith dialogue and harmony at various levels. The hollow notion of 'Clash of Civilization' needs to be replaced with 'Dialogue among Civilizations'. The enhanced engagement among different religions especially Islam and Christianity would serve to build bridges and raze down walls that separate us. Islam stands for peace, harmony and human development. The historic incident of Nijran whereby the Holy Prophet (peace be upon him) treated the Christian delegation as his personal guests, made them stay in the Prophet's Mosque and allowed them to worship there reflects the true spirit of harmony and brotherhood espoused by Islam.
On this auspicious day, all of us, whatever religion and society we may belong to, must pledge to work for promotion of interfaith harmony and peace in the world. Love can heal the wounds of decades and we must dedicate ourselves to spreading the message of love of the Holy Prophet (peace be upon him) and Jesus Christ. We must foil all conspiracies of blaming religions for actions of terrorism, for all divine religions promote love and discourage violence.