Either Revolution or martyrdom, no middle way: Dr Tahir-ul-Qadri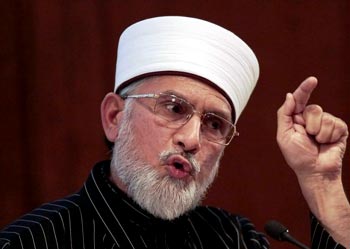 Pakistan Awami Tehreek leader Dr Tahir-ul-Qadri has said that a gap of a few days is left in my meeting with the people of Pakistan. He said he was coming to Pakistan during the current month of June, adding that the last and decisive phase of struggle for revolution had started. He said that green revolution was the purpose of my life and I would not hesitate to offer any sacrifice for this cause. Ruling out any retreat empty-handed, he said that either revolution would come about or he would embrace martyrdom. He asked the workers to continue their door-to-door campaign without caring about hot sizzling weather and inhospitable circumstances.
Dr Tahir-ul-Qadri expressed these views during his telephonic address to central working council of Pakistan Awami Tehreek yesterday. He said that revolution was knocking on every door. He said that it was important that everyone came out to protect the future of succeeding generations and safeguard the state of Pakistan. He said that including every segment of society in the struggle for revolution should be top priority of PAT workers. He said that the current rulers were so ill-disposed towards their country that they did not have trust in their own armed forces. He said that Nawaz Sharif, in his meeting with his Indian counterpart Manmohan Singh in New York last year, told him that he did not have confidence in the military. He said that the Indian media was left startled as to what the Pakistan Prime Minister was saying about his own military. He said that present rulers were enemies of the state and institutions and it was binding on everyone to send them home. He said that the country could be put on the path to progress and prosperity by sending these rulers packing.
Dr Tahir-ul-Qadri said that the recently announced budget was known for its pro-rich and anti-poor credentials. He said that the government had funds to give hike in the salaries, perks and privileges of the MNAs and MPAs but did not have anything for the basic needs of the poor. He said that welfare of the masses was not part of the rulers' agenda as they were using power to expand their business empires. He said that nothing was dearer to them than personal and party interests and selling the national interest was the art the present government was adept at. He said that 10-point agenda of PAT was capable of changing the destiny of the masses. He said that following revolution, Pakistan would progress by leaps and bounds and begin to be counted as the leading nation of Asia. Dr Qadri asked every individual to take to streets with the conviction that the revolution alone was destiny of this land.