Tahir-ul-Qadri Labels Sharif Brothers as 'Terrorists'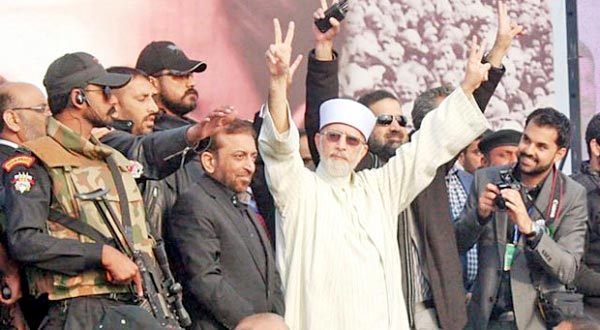 Lahore – Pakistan Awami Tehreek (PAT) chief Dr. Tahir-ul-Qadri has labelled Prime Minister Nawaz Sharif and Punjab Chief Minister Shahbaz Sharif as 'terrorists, saying both brothers will behind the bars soon.
Addressing his party workers and supporters at Minhaj-ul-Quran International (MQI) secretariat here, PAT chief said that he has returned to Pakistan to fight the war of the poor people of country.
He described the deviation of his plane to Lahore from Islamabad 'another act of terrorism' by the government, saying the day is not far away when the sun of revolution will dawn and rulers will be held accountable for their misdeeds.
Dr. Qadri commended the role of electronic and print media and dubbed it as his "revolutionary army". He said the world has witnessed several revolutions but now it will see revolution in Pakistan.
PAT chief said the rulers will attempt to flee now but their bid will be foiled. He said that he can be killed by government but his mission to bring peaceful revolution will continue.
Dr. Qadri asked his followers to be prepared for revaluation, saying he will soon give the final call for it after holding consultations with likeminded political forces. He said the system will change after revolution and he himself will hold general elections.
Earlier Dr. Qadri visited Jinnah Hospital to inquire about the health of PAT workers who had sustained injuries during the Model Town clashes.
Speaking to media outside the hospital, the cleric termed the Model Town incident as 'worst example of state terrorism', stating the blood of those who scarified their lives won't go in waste.
A large number of PAT workers welcomed their leader at the Airport. Foolproof security arraignments had been made on this occasion.
In morning, flight carrying Dr. Qadri was diverted to Lahore after it hovered over the airspace of federal capital for almost 20 minutes. The flight EK-612 of Emirates Airline landed at the Allama Iqbal International Airport at 9:35 but the cleric refused to disembark till his security is guaranteed by the military.
However, after several hours of much-speculation and suspense, he withdrew his demand of provision of military security and he agreed to leave for his residence under his personal security.
Source: www.pakistantribune.com.pk
Source : http://www.pakistantribune.com.pk/16349/tahir-ul-qadri-labels-sharif-brothers-terrorists.html