Government failed to implement NAP both in letter and spirit: Dr Tahir-ul-Qadri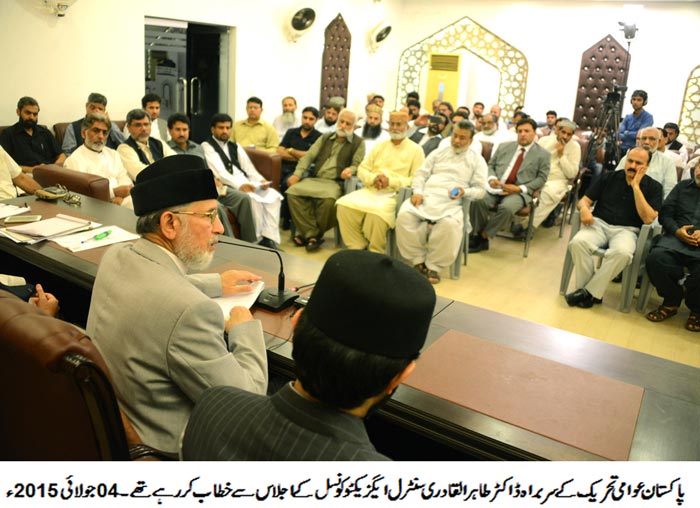 Talking to media after the joint meeting of PAT Central Executive Council (CEC) and Central Working Council (CWC), PAT chief Dr Muhammad Tahir-ul-Qadri has said that he is on record as having stated six months ago that the rulers, who are supporters of terrorists, would not let National Action Plan (NAP) succeed. He said that the Sharif government is playing politics with the military and the nation on the sensitive issue of terrorism. He said that the PML-N comes into power on the strength of vote and support of extremists, adding that the party's contacts with the banned outfits are no secret. He said that the remarks of honorable Justice of the Supreme Court regarind NAP have affirmed our stance. He said that some terrorists and some of their sympathisers are part of the government. He asked the rulers why the military is alone in fighting the war against terrorism.
Dr Tahir-ul-Qadri revealed that the Punjab government has made a plan of spending Rs. 238 billion ahead of the local bodies elections. He asked the Supreme Court and the Election Commission to take notice of this pre-poll rigging. He demanded that these funds must be frozen till conclusion of the local government elections. In reply to a question, he said that if it is proven beyond doubt that any party or organization, whether political and religious, has received foreign funding, those responsible for this should be given capital punishment. He said that some parties receive funds from India, others from Arab states, whereas still others get it from Europe etc. He demanded that across the board and indiscriminate action should be taken against all such parties.
He said that the PAT workers are passing through the phase of resettlement and revival, adding that the party would perform better in the next elections. He said that Pakistan is his country. He is undergoing medical treatment and will continue to come and go. He said that his permanent residence is in Pakistan and his life and death both are associated with this great country. Chairman Supreme Council Dr Hassan Mohi-ud-Din Qadri, President of Federal Council Dr Hussian Mohi-ud-Din Qadri, Dr Raheeq Ahmad Abbasi, Khurram Nawaz Gandapur, Sahibzada Faiz-ur-Rehman Durrani, Sheikh Zahid Fayyaz, Basharat Jaspal, Fayyaz Warraich, Brig. (r ) Mushtaq Ahmad, Qazi Faiz-ul-Islam, Farah Naz, Hanif Mustafavi, Jawad Hamid, Sajid Bhatti, Raja Zahid, Shahzad Syed, Syed Mazhar Alvi, Farhat Hussain Shah, Rana Idrees, Ahmad Nawaz Anjum and Altaf Gilani attended the meeting.
Dr Tahir-ul-Qadri said that no noticeable headway has been made on the National Action Plan against terrorism (NAP) despite passage of six months. He said that the government has nothing concrete to show on any plank of NAP including establishment of military courts, registration of armed banned organizations, plugging their funding sources, activation of NACTA, tackling extremist tendencies and attitudes, eradicating hate literature, designing of curriculum free of hate and bias, protection of life and property of non-Muslim citizens, reforms in justice system, and stopping the terrorists' access to and usage of internet and social media. He said that every point of NAP was bulldozed through corruption, incompetence and bad governance. He said that the Sharif government left the people at the mercy of terrorists instead of implementing NAP in letter and spirit and launched political and electoral projects such as metro buses, and motorways which offer immense opportunities for corruption and kickbacks.
The meeting also deliberated on the Model Town and decided to raise the worst ever state terrorism involving violations of human rights on June 17, 2014 at every international forum and institutions of justice. It decided to expose the anti-people and cruel face of the incumbent Nawaz government.
A resolution adopted on the occasion asked the Punjab government to release the judicial commission report on the Model Town killings and constitute a fair and impartial JIT with the concurrence of the families of martyrs and the injured. It said that unless neutral JIT completes its investigations and a court of law declares the accused innocent, Shahbaz Sharif and Rana Sanaullah, the key accused in the Model Town incident, should tender resignation from their positions.
The committees were set up in the meeting to accelerate the process of party's reorganization and take active part in the local government elections. It was also decided to protest any further delay in the conduct of local bodies elections, every form of pr-poll rigging and delimitation in violation of rules and regulations. The committees were established for this purpose.
Condemnatory resolutions were passed in the meeting against the federal and provincial governments for their failure to control the worst ever power outages and price hike during the month of Ramazan. It was demanded that if the government cannot ensure supply of electricity, water and affordable food, it has no reason to stay in power. Fateh Khawani was also done for the army officers and jawans who were martyred in a train accident in Gujranwala including the martyrs of Model Town tragedy and those killed in Karachi due to load-shedding and water shortage.
Dr Tahir-ul-Qadri was congratulated on launching anti-terrorism, peace curriculum aimed at fostering peace and eradicating radical and extremist attitudes in the form of a resolution passed by the meeting and this was described as a great service to the humanity, which will discourage and expose all such anti-Islam elements busy in disfiguring the peaceful face of Islam.
Irfan Yousuf, Ayesha Shabbir, Mushtaq Nonari Advocate, Razia Naveed, Ayesha Mubasher, Syed Amjad Ali Shah, Naeem-ud-Din Chaudhry Advocate, Hafiz Ghulam Farid Qadri, Qari Mazhar Farid, Bashir Khan Lodhi, Saifulllah Saddozai and other members of CWC and CEC attended the meeting.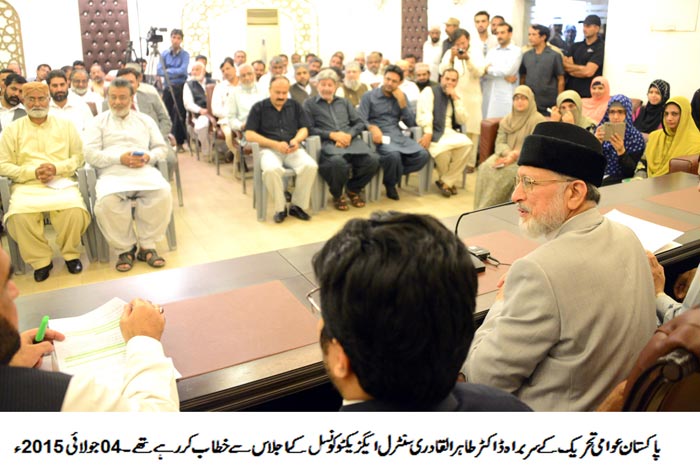 Resolutions adopted unanimously during PAT CEC & CWC meeting
The following resolutions, which were moved by Brig. (r ) Mushtaq Ahmad, Bashrat Jaspal and Fayyaz Warraich, were unanimously adopted in the joint meeting of CWC and CEC.
Tributes to the PAT chief on preparation of peace curriculum
Today's meeting of Pakistan Awami Tehreek (PAT) pays glowing tributes to and congratulates PAT chief Dr Muhammad Tahir-ul-Qadri on gifting the Muslim world with peace curriculum in the light of the holy Quran and Sunna despite his ailment. Certainly, this peace curriculum will benefit the students, lawyers, teachers, youths and intellectuals to understand the Islamic teachings of peace, tolerance, and brotherhood. It will enable them to understand the nefarious designs of terrorists and avoid their evil influence. Moreover, this peace curriculum, designed for promotion of peace, will help expose those anti-humanity elements that carry out evil propaganda against Islam and try to associate it with terrorism.
Condemnation of Government on failing to control price hike & load-shedding
Today's meeting of Pakistan Awami Tehreek condemns the federal and provincial governments for their failure to control load-shedding and price hike and demands of the rulers to control increased power outages and artificial price hike during the month of Ramazan as per their electoral commitments. Particularly, it should be ensured that no load-shedding takes place during the remaining days of the holy month. Today's meeting is of the view that all the claims made by the federal and the Punjab government regarding provision of relief to the masses through utility stores and Ramazan Bazars have proven to be baseless and failure. The people have not got any relief from the utility stores and Ramazan Bazars. The price hike to the tune of 20% to 30% in the open market represents the stark failure of the government and a glaring proof of its insensitivity.
Raising voice for justice in Model Town case at international level
Today's meeting of Pakistan Awami Tehreek demands that the report of the judicial commission led by Justice Baqar Najfi on Model Town should be made public. It further demands that a new and impartial JIT should be constituted with the concurrence of the families of martyrs. Unless the JIT completes its investigations and a court of law declares the accused innocent, both Shahbaz Sharif and Rana Sanaullah should resign from their offices because they are using their powers to bulldoze the process of justice. Today's meeting announces to raise the issue of Model Town tragedy at all forums of justice globally for the sake of justice. It further vows to expose all those who are involved in the Model Town tragedy at the international level.