The powerful should not invite wrath of Allah by exploiting the weak: Dr Tahir-ul-Qadri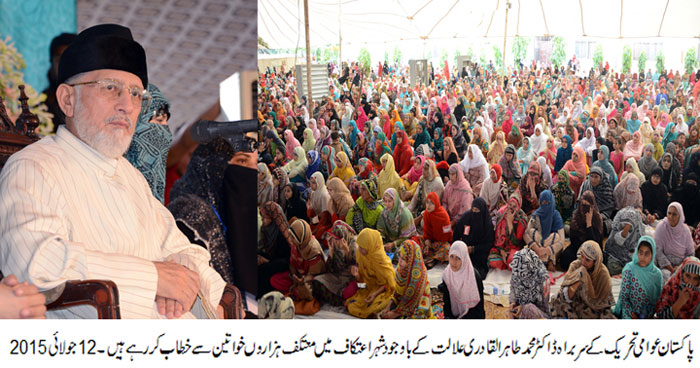 Addressing a mammoth gathering of female residents of Itikaf City despite his serious ailment, PAT chairman Dr Muhammad Tahir-ul-Qadri has said that women have laid the foundation of Mustafvi revolution by accepting martyrdom in the Model Town tragedy. He said that Islam has endowed on women equal rights and equal responsibilities like men. He said that as long as he is alive, he will continue to struggle for establishment of system of justice. He asked the powerful people not to invite the wrath of Allah Almighty by exploiting the poor and weaker sections of society. He further asked as to why law is so blind in dispensing justice to the weak and disempowered people.
Dr Tahir-ul-Qadri said that he will take on the system of oppression and exploitation at every level despite his ailment, adding that his health will have to be equal to his determination and resolve to work for welfare of the poor. On this occasion, special prayer was also made for the departed souls of Tanzila Amjad and Shazia Murtaza, martyrs of Model Town tragedy.
In his response on the alleged killing of the Daesh head for Afghanistan and Pakistan in a drone attack, the PAT chairman Dr Muhammad Tahir-ul-Qadri has described it as a welcome development. He said that the attack on the alleged Daesh head in his hideout in Afghanistan proves that the terrorist organization is establishing its tentacles in the region. He further said that the denial of the Government of Pakistan regarding existence of Daesh shows its lack of knowledge about the fast-changing dynamics of the region.
Dr Tahir-ul-Qadri suggested that the Pakistan and Afghanistan security forces should get united on the single-point agenda of eliminating terrorism from the Af-Pakistan region. He said that both Kabul and Islamabad should rise above their differences and forge unity in their ranks in the interest of peace, stability and progress of the region. He said that one generation has grown up under the evil shadow of extremism and terrorism, adding that protecting the succeeding generations from the pernicious influence of Daeh's and Al-Qaeda's mischief and scourge of terrorism is the religious and national responsibility of every Muslim. He said that due to corruption, incompetence and bad governance of the civil governments, the funding supply lines of terrorists have not been detected and eliminated nor have their patrons, supporters and facilitators been brought to justice.
Dr Qadri said that he would present the Peace Education Curriculum before the nation on July 29. He said that the effective use of pen is of equal importance in addition to the use of hard power to flush out terrorism. He said that designing of peace curriculum to guide the youth and coming generations was the responsibility of the government, which it did not fulfill.