PAT to transform LG institutions into centres of public service: Dr Tahir-ul-Qadri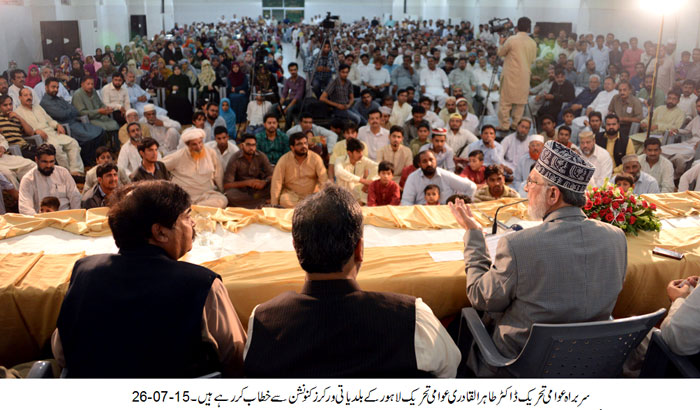 Addressing the workers convention here at the party's central secretariat on July 26, PAT Chairman Dr Muhammad Tahir-ul-Qadri has said that the resources of the local governments were looted with both hands through appointment of administrators. He said that the PAT would create leadership at the grass-roots who would drive out the looters and plunderers from the corridors of power through political and democratic process. He said that those who have deprived the masses of their constitutional right to vote and stunted the growth of local government institutions through appointment of bureaucrats are the enemies of democracy and the people. He said that the so-called democratic parties did not let the masses become stakeholder in the state resources and powers.
The workers convention was attended by Dr Raheeq Ahmad Abbasi, Amir Farid Koreja, Sheikh Zahid Fayyaz, Maj. (r ) Muhammad Saeed, Raja Zahid, Arif Ch., Haji Furrakh, Hafizullah Javed, Afzal Gujjar, Hafiz Ghulam Farid, Altaf Randhawa, and Mrs. Atiya. A large number of workers including women attended the convention.
Dr Tahir-ul-Qadri asked the people of Lahore to reject the candidates of the killers of Model Town tragedy. He said that the PAT is waging the struggle for the poor and downtrodden sections of society. He said that the ruling PML-N is the guardian of Qabza mafia, money launderers, hoarders, black marketers and profiteers. He asked the workers to tell the women and the minorities during their election campaign that the PML-N has reduced the number of women seats and snatched from minorities their right to direct election. He said that the people should be told that the powers of the candidates competing for LG polls have been clipped and these are the PAT candidates who would restore the powers and constitutional status of the local government institutions.
Dr Tahir-ul-Qadri further said that the purpose of appointing the administrators in the local government institutions was to loot their resources with both hands, a practice they indulged in to their heart's satisfaction. He said that this resulted in multiplying the problems at the grass-roots. He said that the people would not vote for enemies of LG system and institutions. He said that the Punjab government violated Article 140-A of the Constitution by issuing an Ordinance. He said that the powers of the LG institutions have been curtailed through the Ordinance, adding that it is difficult to make sense of the local government system now. He said that the PAT would introduce a national leadership through local government candidates, further stating that our candidates will transform the local institutions into centre of public service and retrieve each and every looted penny from the plunderers.