PAT terms Mushahidullah's resignation too insufficient, demands action against him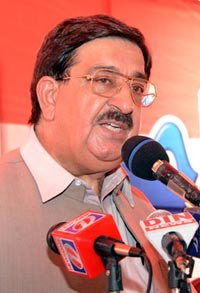 PAT Secretary General Khurram Nawaz Gandapur has said that the resignation of Federal Minister Mushahidullah and the government's announcement of disowning his statement are not sufficient as his revelation comes under the purview of Article 6. He said that Mushahidullah's saying this that the London meeting was in government's knowledge, and we knew who will be leaving and from where and where he would land for which agenda establishes the government's connection with the Model Town tragedy. He said that removal of barriers was merely an excuse whereas the real purpose was to terrorise, harass and intimidate the political workers from going ahead with their agitation plan.
Khurram Nawaz Gandapur asked that the Punjab Chief Minister and Federal Defence Minister said the similar things but why was no action taken against them? He said that we have asked our team of lawyers to review the statement of Mushahidullah from legal point of view, adding that this statement will be made part of the Model Town case.
The PAT Secretary General said that the PM Office had long been working on conspiracy theories in the backdrop of sit-in. He said that Ishaq Dar also cooked up a story of loss of billions of rupees to the economy caused by the sit-ins and the ministers also gave statements about it. He said that it would be better if high-powered commission is constituted to probe the facts. He made it clear that we staged sit-in to protest the government's anti-people policies and seek justice for the martyrs of Model Town tragedy. He made it emphatically clear that staging revolution march and sit-in was the decision of PAT alone.
Khurram Nawaz Gandapur criticized the statement of Mushahidullah and demanded that suitable action should be taken against the Minister as well as the CM Punjab and the Federal Defence Minister. He said that the Prime Minister is playing a fixed match with the collusion of his ministers. He said that the real news is that the government is tapping the phone calls of the Generals. He said that existence of a private cell under the patronage of the PML-N leaders has also been unearthed which has been spying on the opposition political leaders. He asked the Prime Minister to announce action against his blue-eyed minister along with the resignation. He said that the statements coming from different sources of the government are not a coincidence and there is certainly a method to madness.