PAT concerned on reports of delay in resumption of dialogue between Pakistan & India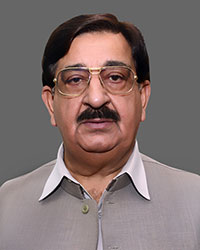 Pakistan Awami Tehreek has expressed its concern on the reports of delay in the resumption of dialogue process between Pakistan and India. Dialogue is the only way forward for establishment of durable peace in South Asia and social and economic stability of the region. Wars also come to an end on the negotiating table. The Kashmir dispute is an internationally recognized issue yet to be resolved and the road to durable peace passes through Kashmir.
These views were expressed by PAT Secretary General Khurram Nawaz Gandapur in his response on the news of delay in launching the dialogue between India and Pakistan. He said that India should show magnanimity and resolve the Kashmir dispute in accordance with the UN sanctioned resolutions. He said that unprovoked Indian firing and shelling into Pakistani areas along the border in the run up to the start of dialogue led to escalation of tensions and vitiated environment. He said that a number of innocent Pakistanis were martyred in these incidents.
The PAT Secretary General asked India not to run away from dialogue by floating preconditions for negotiation through media ahead of their formal start, for peace and economic stability of 1.5 billion people of the region is associated with dialogue. He said that the PAT supports dialogue process between India and Pakistan for resolution of all outstanding issues including the core issue of Jammu and Kashmir. He, however, added in the same breath that dialogue should be held on the basis of parity. He said that India wants to lose an important opportunity of negotiation by making baseless allegation against Pakistan.
Khurram Nawaz Gandapur said that Pakistan is in a state of war against terrorism and the both the people and the armed forces have rendered many sacrifices for the global peace. He said that atomic country India should also know it that Pakistan is an atomic power as well and any kind of misadventure can have devastating consequences for South Asia. He said that undermining Pakistan is to strengthen terrorists. He said that at this critical juncture of history, India and other countries of the region should rise above their superficial political interests and play their role in establishment of peace in the region. He said that the policy of brinkmanship proved to be failure in the past and it is not going to produce any outcome now.