Peaceful struggle to change corrupt system to continue: Dr Tahir-ul-Qadri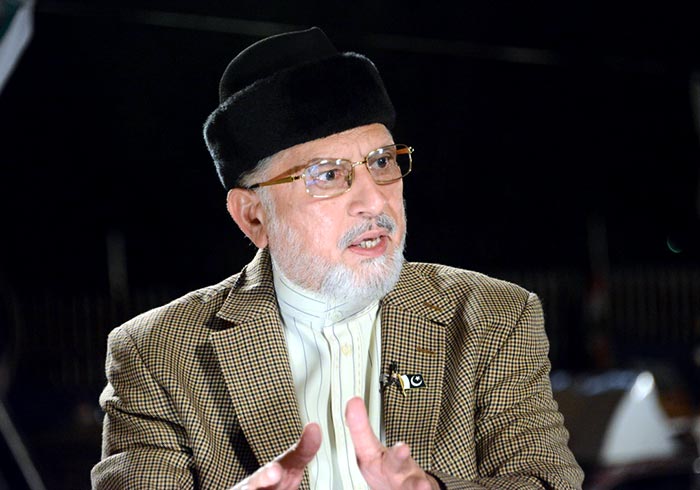 PAT Chairman Dr Muhammad Tahir-ul-Qadri has said that we will not rest till we change, through democratic means, the system that elects robbers and defaulters to positions of power. He said that there is no let-up in our struggle, adding that our caravan is on track towards its destination. He said that had National Action Plan been in action, the reports of candidates supported by the banned outfits being elected in recent LG polls would not have surfaced. He said that two Chiefs pointed out bad governance by the government one after the other, which has testified to our stance. He said that the National Action Plan has failed to achieve its requisite objectives because of bad governance of the government, adding that NAP seems to have been lost in the files of the government.
The PAT Chairman expressed these views while talking to leaders of PAT Lawyers Wing yesterday on telephone. He said that those issuing party tickets to the tax evaders, robbers and outlaws and granting them license to take part in elections are culprits of the nation. He asked the nation to elect their leaders with open eyes. He said that the world laughs at us on electing leaders with questionable credentials, adding that present status quo system suits the protectors of the system who are its major beneficiary. He said that it is about time people wake up from their slumber and use their power of vote most judiciously.
Dr Tahir-ul-Qadri said that the Chief Justice of Pakistan indicated the instances of bad governance in the Supreme Court and now the Chief of Army Staff has also highlighted this aspect, which needs to be pondered over. He said that the national institutions should not just point out the problems but play their role in improving governance and uprooting corruption from the country. He said that those who set up tradition of corruption and kickbacks in the country should look at mega scandal of Nandipur power project instead of parroting their successes.
The PAT Chairman said that Punjab tops the list in terms of instances of hooliganism, lawlessness, and bad governance and his party would place before the nation proofs of these assertions soon. He said that most of news of election of candidates of the banned outfits are coming from Punjab.