PAT issues review report on rigging & irregularities of LG polls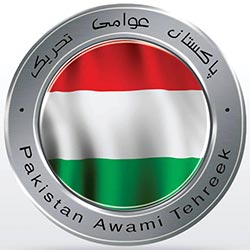 Pakistan Awami Tehreek (PAT) has issued a review report on instances of rigging and irregularities committed during three phases of recently concluded local government elections. It said that the remote-controlled LG institutions that have come into being on the basis of rigging and fraudulent practices will not be able to serve the masses. The Punjab Government tore law into shreds starting from issuance of Local Bodies Ordinance to delimitation of constituencies to compilation of results in three phases of elections. It violated democratic norms and insulted public mandate. Elections were characterized by irregularities, lack of transparency and violation of code of conduct, the review report said.
The 14-point review report was issued by seven-member Election Cell of PAT yesterday, which included Khurram Nawaz Gandapur, Major (r) Muhammad Saeed, Basharat Jaspal, Brig. (r) Muhammad Mushtaq, Fayyaz Warraich, Noorullah Saddiqi and Sajid Bhatti.
The report said that the Government did as it pleased whereas the Election Commission played the role of a spectator. 29 people were killed and 378 were injured in all three phases owing to poor law and order. Police ignored these incidents by dubbing them as family feuds. According to the report:
The timing of launching Kisan package of Rs. 341 billion had a clear political connotation to it. National exchequer was used for vested political interest.
Every MPA belonging to treasury benches was given discretionary funds of Rs. 20 million at the start of electoral campaign.
Planning and Development Department approved development funds of worth Rs. 5 billion during the election campaign.
Polling schemes were kept hidden from the opposition candidates till last stage. Different voters' lists were provided to the government and opposition candidates.
Ghost polling stations were set up.
Returning Officers tinkered with the election results.
Thousands of votes were transferred to other constituencies.
Delimitations of one's liking and disliking were carried out.
Wrong electoral symbols were got printed on the ballot papers of opposition candidates.
Revenue, Police and P&D were used as instrument to undertake rigging.
Favourite, corrupt and select polling staff was deputed.
The PM and the CM ran publicity campaign on electronic media during the election campaign by using public funds.
FAFEN, an independent and non-political electoral watchdog, was allowed limited monitoring of electoral process.
Those who raised the complaints of rigging with ECP and ROs were humiliated.
The PAT leaders said that whole electoral process was non-transparent. They said that there is enough evidence on the table in this regard and elections will be challenged in court of law.