Promotion of knowledge best way to serve humanity: Dr. Hussain Mohi-ud-Din Qadri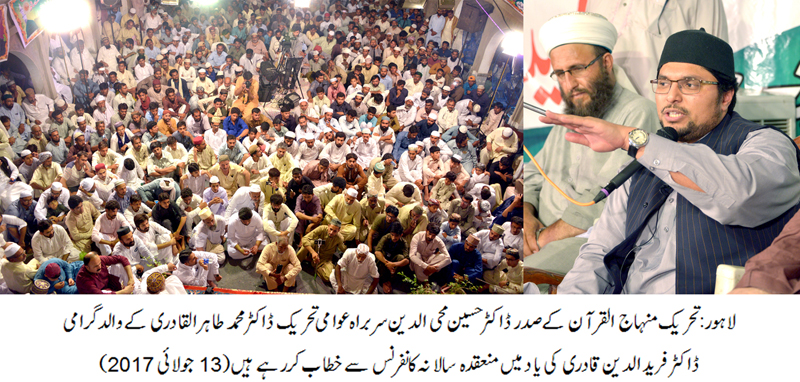 President of Minhaj-ul-Quran International Dr. Hussain Mohi-ud-Din Qadri has announced the construction of Grand Jamia Masjid and the establishment of Minhaj-ul-Quran Secretariat in Jhang. He made this announcement at the annual conference held in the memory of Farid-e-Millat Dr. Farid-ud-Din Qadri, the late father of Dr. Tahir-ul-Qadri.
Dr. Hussain Mohi-ud-Din Qadri noted that Dr Farid-ud-Qadri Qadri was knowledge-friendly, pious and kind-hearted person. He spent his entire life in the learning and promotion of knowledge and the service of humanity. Today his son is disseminating the true teachings and message of Islam across the world. He said that no doubt, the pious children were perpetuating source of virtue after death. He added that the promotion of worldly and spiritual knowledge is the best worship. He thanked Allah Almighty that the passion for knowledge which was an integral part of the personality of Dr. Farid-ud-Din Qadri is being transferred to the next generations.
The President of MQI said that the inheritance of knowledge was benefiting not only the Muslim of Pakistan and Ummah but also the people of the other religions. He said that we were fulfilling our pledges to the fertile land of Jhang by establishing the centers of learning here and our next generations would continue to return to this land. He informed the audience that we would commence different academic programs after the establishment of Minhaj-ul-Quran Secretariat in order to equip the new generation with contemporary knowledge and right thoughts. He also announced that Minhaj-ul-Quran was establishing a grand library here in Jhang. Minhaj-ul-Quran and its affiliate institutions would continue to quench the academic and spiritual thirst of the students, he concluded.
The religious scholars, professors, Mashaykh and distinguished people from all walks of life as well as local community massively participated in the annual Conference.