Dr Tahir-ul-Qadri calls APC on Model Town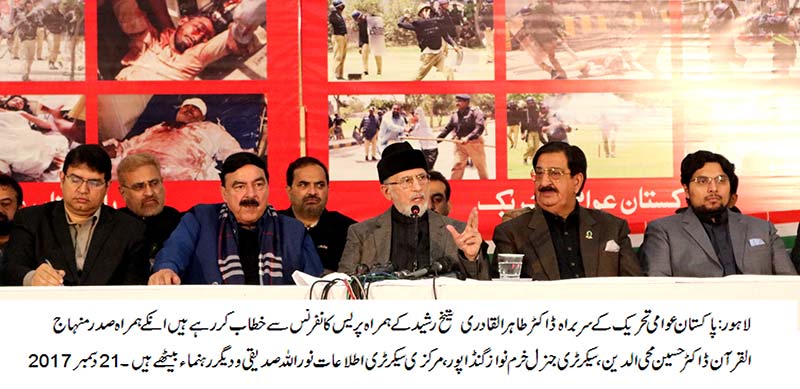 Addressing the press conference along with Sheikh Rashid Ahmad at the central secretariat, PAT Chairman Dr Muhammad Tahir-ul-Qadri has said that the All-Parties Conference will be held on December 28 in which the invitation has been extended to the central leadership of all political forces of the country. He revealed in the presser that 809 police officials belonging to 45 police stations and 9 police check posts took part in an operation to remove what he termed as 'human barriers'. The raiding police party included 204 snipers and shooters of Special Forces. He also issued the list of police stations whose officials were part of the operation. He said that we are of the view based on our observation that the contingent of the police was five-times more than that. He asked whether such a heavy police party came to remove the barriers and could it be possible that their deployment was ordered without the approval of the chief minister.
Dr Tahir-ul-Qadri said that Nawaz Sharif and Shahbaz Sharif are two sides of the same coin and there is no difference between them. He said what to speak of Shahbaz Sharif becoming the next PM of the country, he could see him meeting his end in the Model Town case. He said that Model Town case is far more important and heavier than 100 of the cases.
The PAT Chairman said that he extends a warm welcome to Sheikh Rashid. He had a very detailed discussion with him on Model Town tragedy and also extended him invitation to attend APC on December 28, which was accepted by him.
Speaking on the occasion, Sheikh Rashid Ahmad said that we are with Dr Tahir-ul-Qadri and whatever decision he takes on the issue of Model Town tragedy, we will stand by him. He said that Shahbaz Sharif will not be able to get away with Model Town case, adding that the Najfi Commission report has unmasked his and others' faces. He said that Hudaibya case is the mother of crimes and requested the judges to give a detailed judgment so that appeal could be filed against the decision.
He said that they are benefiting from the delay. He said that Ali Baba and 40 thieves are wreaking havoc. He said that both Sharif brothers are playing good and bad cops. If one lambasts judiciary and army, other praises them. He said that Shahid Khaqan Abbasi is also playing on both sides of the wicket. He said that APC on December 28 will be attended heavily by the heads of the political parties.
Sheikh Rashid Ahmad said that billions of rupees are being doled out in the name of development funds. He said that even Ishaq Dar did not distribute that much money. He vowed to hold the people accountable in this regard. He said that instead of carrying out legislation, the Prime Minister comes to Lahore to meet the disqualified person. He said that the people pay electricity and gas bills through their nose in summer and winter season respectively.
Dr Tahir-ul-Qadri further said that Justice Najfi wrote in the report that the police officers concealed facts despite being asked. He said that we are bringing some facts to the fore, stating that many more have yet to be revealed. He also revealed the list of 45 police stations whose constabulary took part in the Model Town operation. They included Ichra, Shadman, Gulberg, Choki FC, Ghalib Market, Garden Town, Choki Raja Market, Faisal Town, Model Town, Liaqat Abad, Nasirabad, Kot Lakhpat, Nashtar colongy, Kahna choki, Sowa Asal, Choki Lakhoki, Choki Balloki, New Anarkali, Lower Mall, Bhatti gate, Subzazar, Hanjrwal, Mustafa town, Nawaab town, Chouhing, Sattu Katla, Sundar, Manga Mandi, Town Ship, Johar Town, Green Town, Quaid-i-Azam Industrial State, Civil Lines, Qila Gujjar Singh, Lutten Road, Old Anarkali, Race Course, Gari Shaho, Gulshan Ravi, Nawa Kot, Gulshan Park, Neelum Park, Wahdat Colony, and Muslim Town police stations whose SHOs, sub-inspectors and constables took part in the operation.