Dr Hassan Mohi-ud-Din Qadri addresses training session of eLearning Program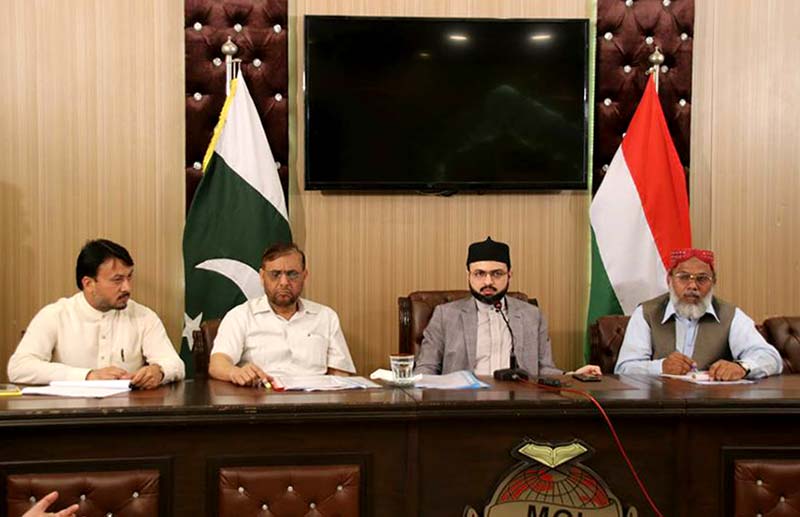 Addressing a training session of scholars of Minhaj eLearning programme, MQI Supreme Council Chairman Dr Hassan Mohi-ud-Din Qadri has said that propagating the religious sciences, particularly the teachings of the Holy Quran is the responsibility of every believer and a continuous source of spiritual blessings. He said that conveying the authentic message of the Divine Book to every person is the need of the time, stating the Quranic teachings are all about tolerance, love, equality, peace. He said that it is a matter of great satisfaction that 500 families are benefiting from eLearning courses across 28 countries.
Principal COSIS Khan Muhammad, Dr Mumtaz-ul-Hassan Barwai, Hafiz Saeed Raza Baghdadi, Ghulam Murtaza Alvi and Maqsood Noshahi also addressed the E-Learning programme.
Briefing the broad contours of eLearning programme launched in the light of vision of Dr Tahir-ul-Qadri, Maqsood Noshahi said that children of more than 500 families from across 28 countries including USA, Europe, Canada, Australia, Middle East and Japan are getting education under this programme. He said that this worldwide programme of online education remains operational 24/7 and more than 50 religious scholars continue to impart the teachings in various aspects of the religious sciences in the foreign lands. He said that children of over 2000 families have got instruction of the Holy Quran during last 8 years.
Maqsood Noshahi said that there is a lot of demand of the eLearning courses in different parts of the world and consequently it has been decided to expand its scope to the Central Asia so that more and more children could benefit from the treasure of the Quranic knowledge.
Concluding his speech, Dr Hassan Mohi-ud-Din Qadri said that MQI is engaged in the mission of promoting the culture of knowledge, and research. He said that the Islamic Centres established in more than 100 countries of the world are hubs of peace, that are playing their due role in building bridges between the Muslims and the people of other faiths.