21-day Fann-e-Khitabat & Naqabat Course concludes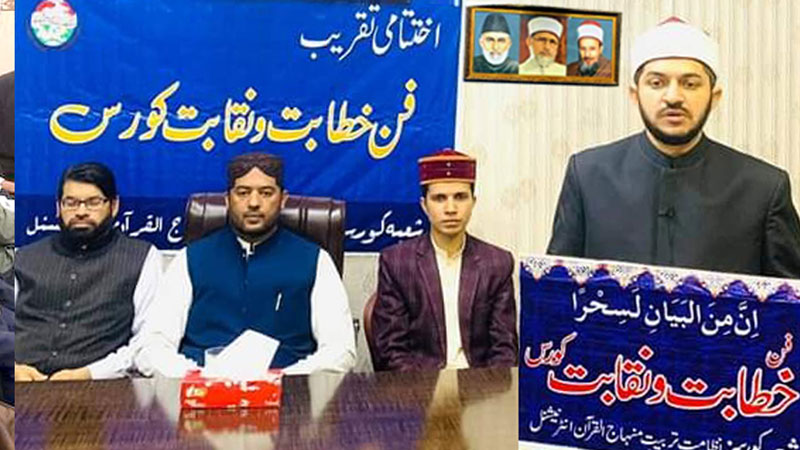 Hafiz Saeed Raza Baghdadi and Allama Mahmood Masood addressed the concluding ceremony of 21-day long "Fann-e-Khitabat and Naqabat Course" held under the banner of Directorate of Training, MQI. The proceedings of the program got underway with a recitation from the Holy Quran by Qari Syed Khalid Hameed Al-Azhari followed by a recitation of Naat by Qadeer Ahmad Khan.
Mr. Ali Chaudhry, Consul General of Pakistan in Barcelona, was the chief guest in the ceremony that was held in Spain. Graduate of Minhaj University and religious scholar Hafiz Muhammad Musa also addressed the ceremony. Shields and certificates were given to the participants of the course. The students also gave a presentation on their expertise that was developed in the course.
Addressing the ceremony online from Lahore, Hafiz Saeed Raza Baghdadi said that the teachers worked very hard to educate the participants of the course about the public speaking and conducting skills. He said they also made the students aware of the importance of public speaking, including the larger issues of this craft and how to overcome them.
Saeed Raza Baghdadi said that the art of making a speech is an important effective mode of contemporary communication. He said this art can also be employed for preaching the teachings of religion and defending it against objections. He said the challenge that a public speaker faces is to put across one's point of view in a simple, lucid, and easy-to-understand manner. He said the public speaking makes students confident and inspires them to conduct research for their speeches. He congratulated the teachers and organizers on the successful conduct of the course.
Hafiz Muhammad Musa, while speaking on the occasion, said that public speaking boosts the confidence of young students. He said by employing this art, the students can easily render their written material into an oral message that can gain greater traction. He congratulated the participants on the course.