MQI is a powerful voice for unity among different schools of thought: Dr Hassan Mohi-ud-Din Qadri
Collective thinking provides the best solutions to problems
Dr Hassan Mohi-ud-Din Qadri calls for consensus-based decision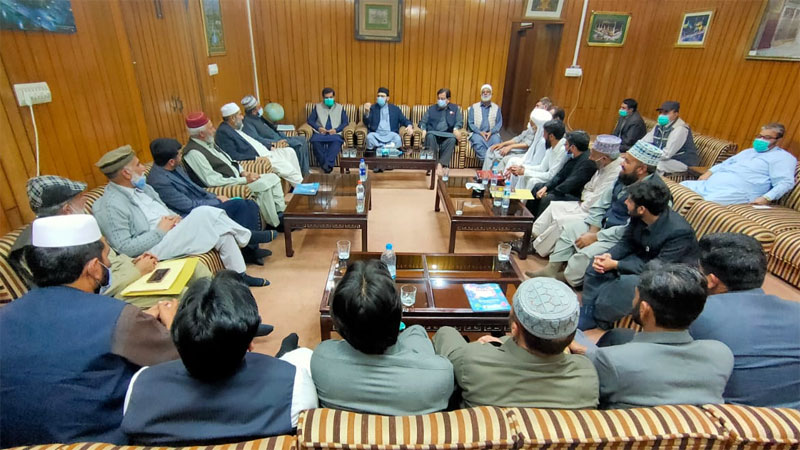 A delegation of the MQI officeholders from the Hazara Division called on Dr Hassan Mohi-ud-Din Qadri, Chairman MQI Supreme Council at the central secretariat in Lahore. Secretary-General Khurram Gandapur and Raja Zahid Mahmood were also present in the meeting.
Dr Hassan Mohi-ud-Din Qadri appointed Muhammad Javed Qadri as General Secretary of the Hazara Division and directed him to complete the reorganization of the organization in all districts of the Division as early as possible.
Talking to the delegation, Dr Hassan Mohi-ud-Din Qadri said that one of the greatest challenges is to protect the nation from domestic and external chaos, extremism and sectarianism. He said MQI is the powerful voice for the promotion of unity in various schools of thought in the present age. He said that it is doing its duty of bringing all schools of thought together on the shared values, stating that the workers and associates of MQI are deeply invested in this noble mission.
Dr Hassan Mohi-ud-Din Qadri said that Shaykh-ul-Islam Dr Muhammad Tahir-ul-Qadri speaks the language of love, peace, brotherhood and tolerance. He said that all will speak the same language tomorrow, if not today, for in this course of action lies the salvation of the Muslim community. He said that Islam is a religion of peace and the enemy is making an effort to poison this great message with hatred and terrorism. He stated unequivocally that we would not let enemy forces succeed in their nefarious designs.
Chairman Supreme Council said that the solution to every problem lies in closing our ranks and forging unity of thought and action. Addressing the officeholders of the Hazara Division, he said that we are all standing on the principle of collectivity and advised them to hold consultations on every organizational matter to make informed decisions. He said there is no margin for error as long as the decisions are taken through consensus.
The delegation consisted of the district president Haji Ghulam Shabbir, Haji Shamraiz Khan, Haji Ghulam Sarwar, Haji Ahmad Nasir Khan, Haroon Khan, Sajid Khan, Ehsan-ul-Haq, Javed Qadri, Amjad Khan, Sardar Muhammad Khan Advocate, as well as the officeholders of PAT, Minhaj-ul-Quran Ulama Council, MSM and the Youth League.