Shaykh-ul-Islam's a source of light in this age of darkness: Syed Noor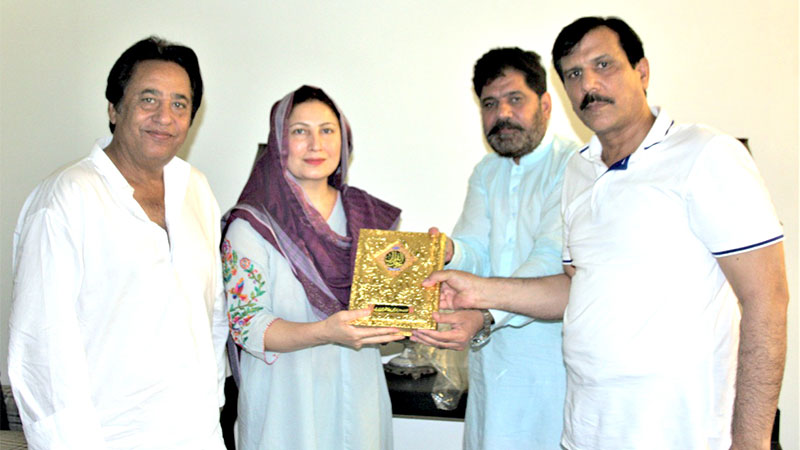 Renowned film maker, producer and writer Syed Noor has said that Minhaj-ul-Quran International (MQI) and Shaykh-ul-Islam Dr Muhammad Tahir-ul-Qadri are doing an incredible work, promoting the peaceful message of Islam. He said that thousands of speeches delivered by Dr Tahir-ul-Qadri and the hundreds of books written by him constitute a powerful narrative against terrorism and extremism. He said that he is deeply appreciative of the work done by Shaykh-ul-Islam for the promotion of Islamic culture, arts and civilization.
Syed Noor made these remarks in his meeting with Director Public Relations MQI Shahzad Rasool and Abdul Hafeez Chaudhry. His wife, renowned actress Saima Noor, was also present on the occasion. The MQI leaders briefed Syed Noor and his wife about the various welfare projects under the umbrella of MQI. They invited them to visit Aghosh Care Home Complex, an institute for the orphan children that is giving them top-quality residential and educational facilities. Syed Noor and Saima Noor accepted the invitation of the visit.
The MQI leaders presented Irfan-ul-Quran as a gift to Syed Noor. The renowned film maker appreciated the kind gesture of the gift and thanked the MQI leaders. He said that Shaykh-ul-Islam is included among those personalities who led the fight against extremism and sectarianism and promoted the message of mysticism for this purpose. He said that the multi-faceted services of Shaykh-ul-Islam are unforgettable.
Syed Noor and his wife Saima Noor said that they have seen the work of MQI around the world and acknowledge the difference that Dr Tahir-ul-Qadri has made by educating the youth about real Islamic teachings. They said that protecting the faith of our youth and instilling in them the love of the Holy Prophet (PBUH) is the greatest of services. They said that Dr Qadri is the light of knowledge in this age of darkness. He said that whenever they met him, they were left spellbound by the vastness of his knowledge and the richness of his insight. "He is a sincere leader and has the capability to guide the nation," they concluded. They prayed for good health and long life of Shaykh-ul-Islam.