42nd death anniversary of Dr Farid-ud-Din Qadri observed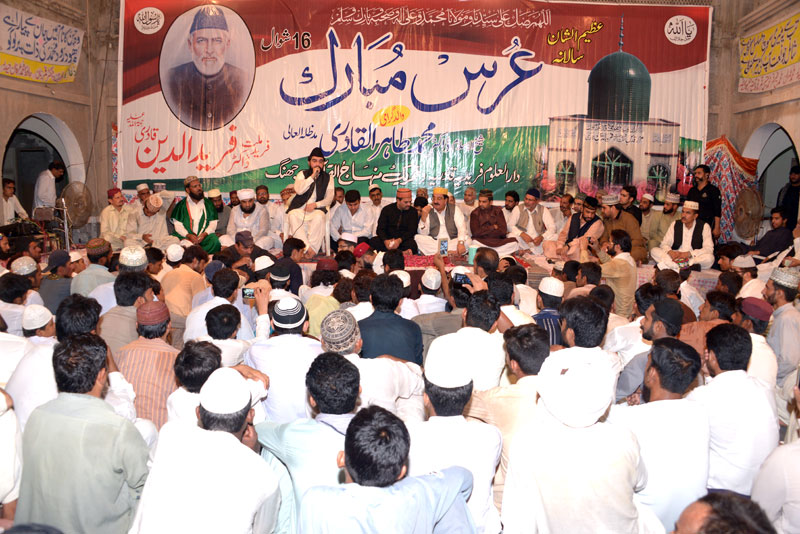 The 42nd death anniversary of Dr Farid-ud-Din Qadri, the father of PAT Chairman Dr Muhammad Tahir-ul-Qadri was observed in Dar-ul-Aloom Faridia Qadria in the Jhang Sadar on July 21, 2016. A Farid-e-Millat Seminar was also arranged on the occasion, which was attended by religious scholars, intellectuals and people belonging to various walks of life. The speakers paid rich tributes to Dr Farid-ud-Din Qadri for his services and contributions to the field of medicine, Pakistan and Islam.
The Seminar was presided over by Sibghatullah Qadri, whereas PAT Secretary General Khurram Nawaz Gandapur was the guest of honour. Other notable attendees of the Seminar were Jawad Hamid, Basharat Jaspal, Hafiz Abdul Qadeer, Sohail Ahmad Raza, Shahzad Rasool Qadri, Qari Noor Muhammad Chishti, Ain-ul-Haq Baghdadi, Adnan Javed etc. A large number of PAT and MQI workers also attended the programme.
Addressing the seminar, PAT leader Khurram Nawaz Gandapur said that those who dedicate their lives for the service of humanity always live in the hearts of the people. He said that it goes to the credit of Dr Farid-ud-Din Qadri that he trained his son, Dr Tahir-ul-Qadri, in an excellent manner and then appointed him to the job of serving the cause of Islam. He said that it is as a result of efforts and hard work of Dr Tahir-ul-Qadri that peaceful message of Islam is getting far and wide in the world today.
Allama Ghulam Rabbani Taimoor, in his speech, on the occasion threw light on the services and contributions of Dr Farid-ud-Din Qadri. He said that the father of the PAT Chairman had a complete mastery on the modern sciences in addition to religious knowledge. He was truly a knowledgeable man and the one who had love of humanity in his heart. He said that he was a paragon of piety who dedicated his life for the service of humanity. He said that Farid-e-Millat Research Institute established after his name is spreading the light of knowledge today by undertaking research on various aspects of Islam and contemporary affairs and a world is benefiting from it.