Jhang: 46th Urs of Dr Farid-ud-Din Qadri (R.A) observed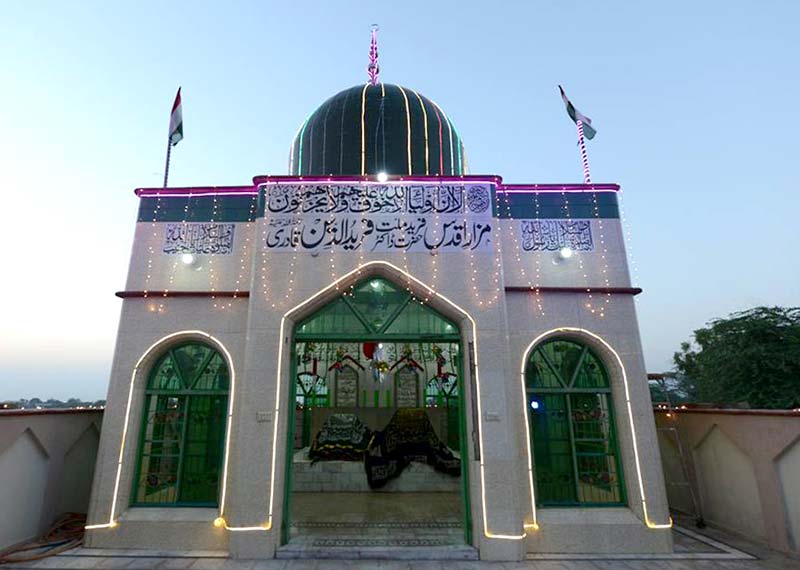 The ceremony marking the 46th 'Urs' of Farid-e-Millat Dr Farid-ud-Din Qadri (R.A), the father of Shaykh-ul-Islam Dr Muhammad Tahir-ul-Qadri, was held here. Addressing the ceremony, Allama Sayyid Hidayat Rasool Shah, the leader of Minhaj-ul-Quran Ulama Council, said that the Sufis and Friends of Allah continue to remain ascendant due to their love for humanity. He said that there is Hadith that says that he who does not give his thanks to the people does not thank Allah. He said that such ceremonies of thanksgiving for the exalted personalities should be held regularly as these people served the religion and humanity with complete sincerity. He said that Dr Farid-ud-Din Qadri was certainly among these top-notch personalities who trained his son in such a manner that the latter is upholding the banner of Islam in the world, stating that the world knows this person as Shaykh-ul-Islam Dr Muhammad Tahir-ul-Qadri. He said that we are thankful to Dr. Farid-ud-Din Qadri for imparting spiritual training and religious education to his son and enabling him to serve Islam.
The ceremony was attended Ch. Fayyaz Ahmad Warraich, Jawad Hamid, Allama Rana Muhammad Idrees, Raja Zahid Mahmood, Engr. Rafique Najam, Noorullah Siddiqui, Shahzad Rasool, Sohail Ahmad Raza, Hafiz Ghulam Farid, Altaf Randhawa, Qazi Faiz-ul-Islam, Haji Muhammad Ishaq, Saqib Bhatti, Shahbaz Tahir and others. Administrator Auqaf from Faisalabad Ayaz Mahmood Lashari, MQI Jhang leaders Muhammad Asif Hijazi, Qari Munawar Hussain Qadri, Sahibzada Muhammad Hussain Mustafavi, Sahibzada Muhammad Raza-ul-Mustafa, Khawaja Muhammad Salman Qadri, were special guests on the occasion.
Engineer Rafique Najam, while speaking on the occasion, said that Dr Farid-ud-Din Qadri was a scholar of deep learning, imbued with piety and love for humanity. He was a doctor of the highest stature who wrote a beautiful thesis on the pulse in the Arabic language which became part of the medical curriculum in the sub-continent. The ceremonies related to 'Urs' started off with placing of Chadar' on the grave of Dr Farid-ud-Din Qadri (R.A) and special Dua was made.
The 'Urs' ceremony got underway with the recitation of the Holy Quran followed by Naat khawani and durood-o-salam. The speakers, in their speeches, paid rich tributes to Dr Farid-ul-Qadri and threw light on different aspects of his multidimensional personality. Zaheer Bilali brothers, Shahzad brothers, and Rasheed Ghulam Farid Chishti had the honor to recite Naat.