Canadian High Commissioner visits Centeral Secretariat of MQI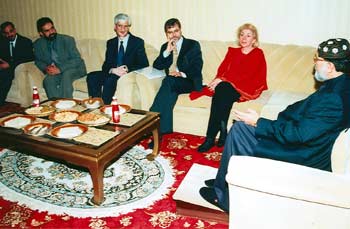 Canadian High Commissioner Margaret Huber, Deputy Chief Officer Mission Stuart Huges and Staff officer Aized Ali visited Minhaj-ul-Quran International on Friday and met the founder of Minhaj-ul-Quran at his residence. Nazim-e-Aala Dr. Raheeq Ahmad Abbasi, G.M. Malik, Dawood Hussain Mash'hadi, Agha Murtaza Poya, Ali Ghazanfar Krarvi, Captain Ali & other leaders of Tehreek-e-Minhaj-ul-Quran received the Canadian delegation who visited the College of Shariah & Islamic Studies (COSIS), Tehfeez-ul-Quran Institute, Minhaj Higher Secondary School, Minhaj College for Women and The Minhaj University. During this visit, Margaret Huber appreciated the Minhaj Education Network. She said that Qadri's services in this regard are really appreciate able & he is undoubtedly doing a lot for education. Nazim-e-Aala gave brief information about institutional education network.
During this visit, Dr. Tahir-ul-Qadri told the delegate that Islam is a peaceful religion & it preached peace, opposed extremism & terrorism. He told that Islam is a complete code of life and guides in all aspects of life. It teaches the respect of human being and condemns terrorism, lust, tyranny, savagery, anxiety, illiteracy, nudity, corruption, cruelty, unrightness, obscenity & vulgarity.
Dr. Tahir-ul-Qadri said that not only education but aimfull and progressive education can bring a positive change in society to put the country on developing path. He said TMQ is leaving no stone unturned in keeping on continuing its mission and bestowing legacy of prosperity to the coming generation by giving them modern, scientific & religious education. He said that TMQ is also giving scholarship to the poor and deserving students, So that they may compete the triumph and challenges of the time. He said that all the teachers of Minhaj Educational Institutes are burning the mid night oil (doing there level best efforts) to decorate the students with the jewelry of civilization & awareness. So that they could not only serve their country but also become able to reach the peak of humanity.