COSIS hosts Milad feast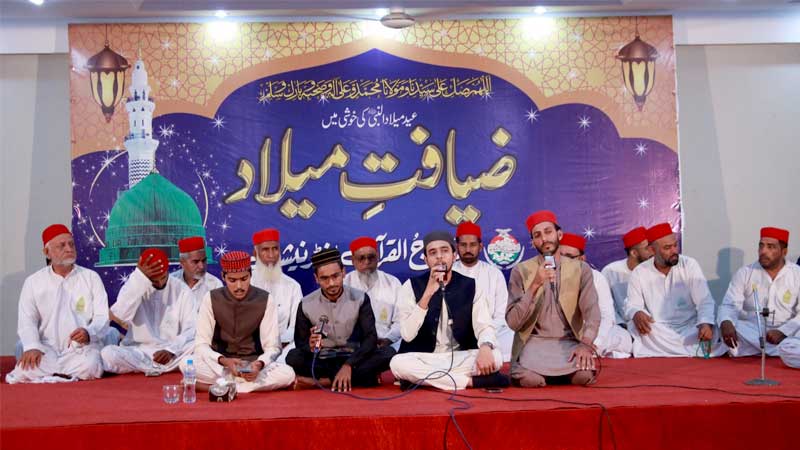 Milad feast was held under the banner of COSIS (Bazm-i-Minhaj) at the MQI central secretariat. The students of COSIS recited from the Holy Quran and sang praises of the Holy Prophet (PBUH). Internationally renowned Egyptian Qari As-Shaykh-ul-Kabeer Saleh al-Tanatavi and Qari Muhammad Mudassar also attended the ceremony as guests of honour and mesmerized the audience with their melodious recitation. Naveed Naqeebi, Subhan Ali Saeedi, Ahmad Mustafa, Raza ul Mustafa Qadri, and Hassan Abdullah Qadri recited Naat in the honour of the Holy Prophet (PBUH).
Scholar and counselor Students Affair, Dr Shafaqat Ali Baghdadi, addressed the ceremony and said that celebrating the birth anniversary of the Holy Prophet (PBUH) is a matter of great blessing. He said Allah Almighty described the life of the Holy Prophet (PBUH) as the best model for the believers to follow, adding that we can make our life meaningful by following his blessed life in letter and spirit. He said the arrival of the Holy Prophet (PBUH) to the world was the greatest gift to humankind for which we should be thankful to the Almighty.
Senior students of COSIS, Qauwwat Ali Fateh, Hammar Rafique Madani, Muhammad Ahsan Chishti, and Hafiz Muhammad Tayyab also spoke on the occasion and said that the youths needed to re-establish the emotional connection with the Holy Prophet (PBUH). They said respect and reverence for the Prophet (PBUH) is the means of salvation not only in this world but also in the hereafter.
The ceremony came to an end with the recitation of greetings and salutations on the Holy Prophet (PBUH).