Canadian MNA Mr Wajid Khan visited Minhaj-ul-Quran Lahore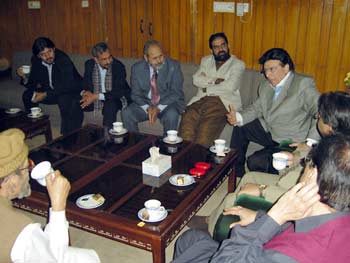 Mr Wajid Khan who is the Member of House of Commons (MNA) for the Canadian Parliament visited the central Secretariat of Minhaj ul Quran International.
During the visit Mr Wajid Khan said that I have found Minhaj ul Quran International to be much more than what I had imagined. I have come to know today that Dr Tahir Ul Qadri has practically provided educational services, health services, and many other welfare services to hundreds of thousands of poor and needy within Pakistan as well as the other parts of the world. While expressing his views about Dr Tahir Ul Qadri and Minhaj ul Quran International Mr Wajid Khan also said that "I believe that Minhaj ul Quran international is the international organization which will lead the Muslims all over the world.
During the visit to The Minhaj University and Farid e Millat Research Institute Mr wajid Khan was pleased to know that education and research work in the institutions of MQI is according to the international standards.
He also visited other Departments of Minhaj ul Quran International and met Nazim e Ala Dr. Raheeq Ahmed Abbasi, Col (R) Fazil e Amim, Sec to Dr Tahir ul Qadri G.M.Malik, Director Welfare Col (R)Ahmed, Director Publications Mr Abdul Aziz and Director Foreign Affairs D.H.Mash`hadi.