Mass Marriage ceremony under MWF on March 14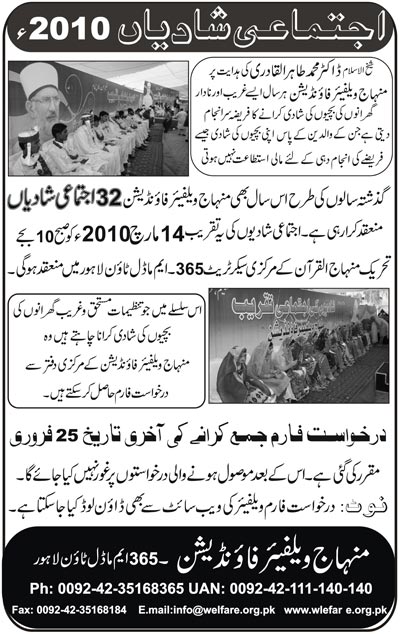 On the occasion of ongoing Milad celebrations in the holy month of the Rabi-ul-Awwal, Minhaj Welfare Foundation would hold a mass marriage ceremony of 32 couples in the Minhaj Park in front of the central Secretariat of MQI on March 14, 2010. The ceremony would be held under the patronage of Shaykh-ul-Islam Dr Muhammad Tahir-ul-Qadri, whereas Sahibzada Faiz-ur-Rehman Durrani, central Amir-e-Tehreek, would preside over the programme. Iftikhar Shah Bokhari, senior naib Nazim of Minhaj Welfare Society, told this in his statement on the eve of the marriage ceremony.
Executive Council of Minhaj Welfare Foundation met with Dr Shahid Mahmood, central Nazim of the Foundation in the chair in which 15 management committees were formed. Dr Raheeq Ahmad Abbasi would be the supervisor of the central committee, where other office bearers would be Aqil Malik, deputy head, Iftikhar Shah Bokhari, secretary, Samius Zafar Noshahi, deputy secretary, and Sajid Hameed, member. The heads of the sub-committees would be the members of the central committee, which would oversee all arrangements of the mass marriage ceremony. Iqbal Noor and Hafiz-ur-Rehman would be the head and secretary of the publicity committee, whereas purchase committee would be headed by Mian Tahir Yoqub whose secretary would be Yasir Khan and Ahmad Moeen member.
A committee under Jawad Hamid would make arrangement for marriage feast. Malik Shamim, Sajid Hamid, Shahzad Rasool would be deputy head, second deputy head and secretary respectively. Iftikhar Beg would be the head of the stage decoration committee, whereas Sayyid Ikhlas and Shakil Rafiq would be its secretary and member respectively. Mian Tahir Yoqub would be the head of the reception committee, whereas Iftikhar Beg and Ahmad Moeen would be its secretary and member. Media committee would be headed by Mian Zahid Islam with Ch Abdul Hafeez and Latif Madani as its members. Shafiq-ur-Rehman Saad and Khurram Khalid would look after recording. Abdul Sattar Minhajian and Sabir Hussain would be head and secretary of the Internet committee. The fund raising committee would have Shahid Latif and Hafiz-ur-Rehman as head and secretary respectively.
Abdul Hafiz Ch, Sajid Hamid and Mian Iftikhar would be responsible for public relations, while Mr. Riaz Ahmad would look after the security matters. Dowry display committee would have Bilal Mustafvi and Mansoor Bilal as its members. Likewise Dr Salim Awan would look after parking and transport matters.
Iftikhar Shah Bokhari told that the ceremony would be attended by representatives of different organizations, renowned personalities and traders. He said that 452 marriages have so far taken place at the MWF forum and in 2009 alone, it organized 63 mass marriages. He said that MWF would further project this event in other cities as well.