MQI Lahore Organizes Inaugural Ceremony of Fatwa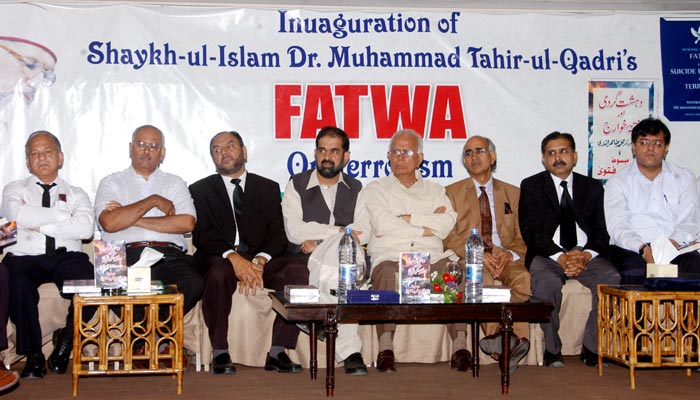 The inaugural ceremony of Shaykh-ul-Islam Dr Muhammad Tahir-ul-Qadri's book "Terrorism and Fitna-e-Khawarij" was held in a local hotel (Holiday Inn) under the banner of Minhaj-ul-Quran International Lahore chapter (Aziz Bhatti Town). Paying tribute to the scholarly services of Shaykh-ul-Islam, the speakers said that he has infused confidence among the Pakistani nation by giving historic Fatwa (religious decree) against terrorism. Minhaj-ul-Quran International deserves felicitation in this regard. The Fatwa proves that the heart of Dr Muhammad Tahir-ul-Qadri is in Pakistan. If a sincere leader of Shaykh-ul-Islam's stature is present, no one can bring harm to Pakistan. Dr Tahir-ul-Qadri has paid back the debt of centuries by having saved the youth from the danger of brain washing in the name of Jihad. Today even prominent intellectuals are confused about the difference in the meaning of Jihad and terrorism. Shaykh-ul-Islam has thrown light on every aspect of terrorism in his Fatwa, which offers practical and intellectual guidance for complete elimination of terrorism.
They said that Dr Muhammad Tahir-ul-Qadri has clarified the intellectual fallacies and has guided the Umma in a befitting manner. His work is also solid, for it draws heavily on the Holy Quran, Hadith and Juristic opinions of the grand Imams of all religious schools of thought.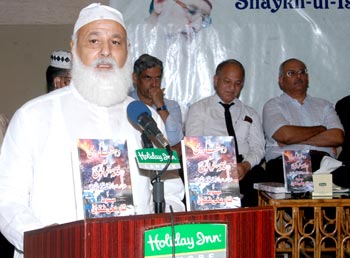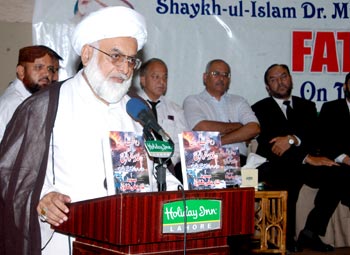 Speaking in the seminar, Allama Akber Hussain, head of Minhaj-ul-Husnain, said that the Muslims are accused of terrorism and extremism because they have forgotten the real teachings of Islam. Religious sectarianism and international terrorism has destroyed peace of the entire world. Dr Muhammad Tahir-ul-Qadri has clearly identified the enemies of Islam through his mention of the Khawarij phenomenon. The youths are being misled in the name of Jihad and Paradise today. The Fatwa describes the legal position of our faith that terrorism represents the proliferation of violence on earth and it is the duty of the government to eliminate it from our midst. There can be no more argumentative and detailed Fatwa than this one. He requested the judiciary to pass an order against terrorists in the light of the Fatwa.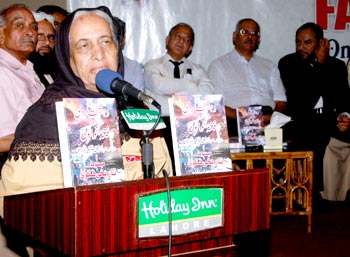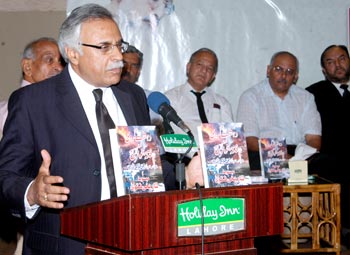 Addressing the ceremony, Raghib Hussain Naeemi, son of Dr Sarfraz Naeemi Shaheed, said that the Fatwa should be made accessible to the intellectuals and the people at large. He said that it is a historic document and a greatly scholarly masterpiece by Shaykh-ul-Islam Dr Muhammad Tahir-ul-Qadri.
Manzoor Gilani, chairman of Pakistan Istiqlal Party, said that certain people belonging to a particular sect started attacking the Mosques and Imam Bargah in the name of sectarianism during the Zia regime. It is high time we revived the ideology of Pakistan as a counterweight force to the pernicious ideology of extremism.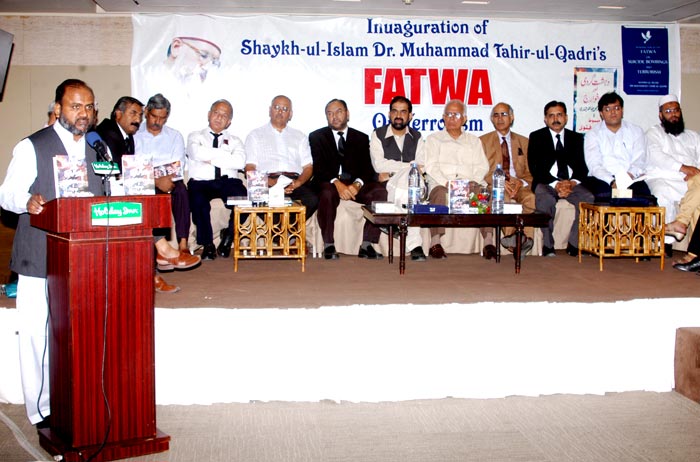 Dr Raheeq Ahmad Abbasi, Nazim-e-Ala of Minhaj-ul-Quran International, said in his speech that terrorism has nothing to do with Islam. He said that when the New World Order was being imposed, it was Shaykh-ul-Islam Dr Muhammad Tahir-ul-Qadri who exposed the evil designs of the imperialist forces. The book he wrote in 1991 bears witness to the fact that terrorism had started taking root in Pakistan well before 9/11. Those who attacked the Egyptian embassy were none lese but the Muslims. He said that certain Ulama have hijacked Islam. Islam does not approve of keeping the private army. Only an Islamic ruler can declare Jihad in an Islamic state. The killer of Dr Sarfraz Naeemi Shaheed was not a Hindu, Christian or an American but unfortunately a Muslim. Dr Muhammad Tahir-ul-Qadri gave Fatwa against terrorism as a servant of religion. There are principles that underline Jihad which have been totally forgotten.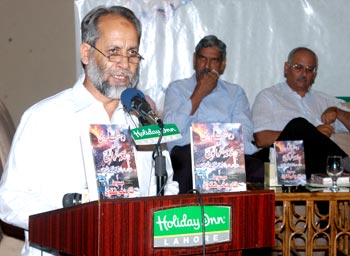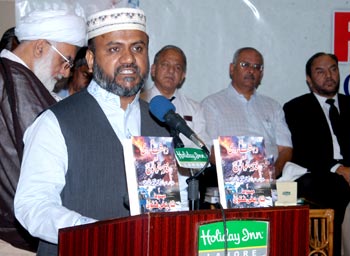 Chaudhry Aamir Waqas, vice president of Lahore Press Club, said that the miscreants were dubbed as Jihadis in the past. The Holy Quran not only addresses a Muslim but a man. Islamic teachings were brought into disrepute globally by the so-called Islamic warriors. He said that we would have to work hard to change man inside ourselves. He questioned how many Ulama a la Hazrat Mian Mir there would be who are ready to build a Hindu temple. He said that there is a need to correct the concept of Jihad. Pakistan is not threatened by the external forces but by a mix of Maulvi and a politician. We would have to eliminate the nurseries that breed and nurture the terrorists.
Brig. (r ) Farooq Hameed Akhtar said that Dr Tahir-ul-Qadri is General of the Islamic world and his Fatwa is a reflection of his immense love for Pakistan and Islam. He has vehemently criticized the drone attacks. The Fatwa is such a historic document that comprehensively addresses the western propaganda against Islam in a logical and rational manner.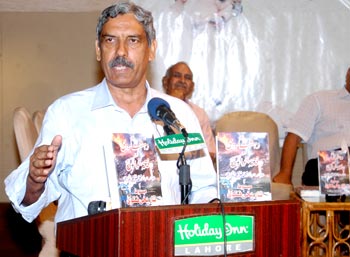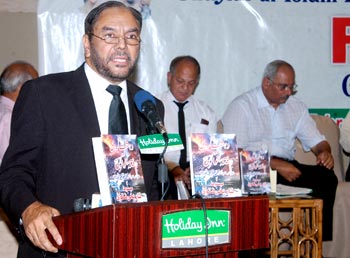 Dr Kunwar Feroz said that the seed of justification of terrorism is being sown in the minds. Dr Muhammad Tahir-ul-Qadri has exposed this heinous conspiracy. There is no shortage of people who do not approve of the military action against terrorists. Such people need to understand that one cannot and should not hold talks with the oppressors and the beasts. Dr Tahir-ul-Qadri has knocked the bottom from under the feet of people who are supporters of terrorism on different counts. The services of Shaykh-ul-Islam Dr Muhammad Tahir-ul-Qadri, Ambassador of Peace, to human welfare, promotion of peace, interfaith dialogue and harmony are praiseworthy. This Fatwa occupies a pivotal place to bring different religions together.
Sardar Kiyani Ranjeet Singh said that no religion of the world allows terrorism. It is the responsibility of all those living in Pakistan to sacrifice to safeguard their country. All would have to work jointly against terrorism.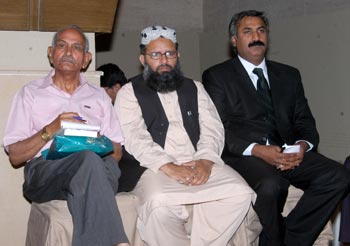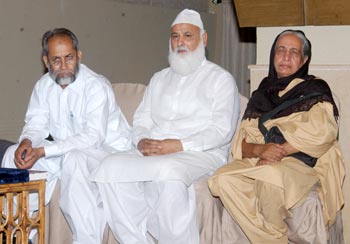 Ahmad Owais, former president of Lahore High Court Bar Association, said that the Fatwa of Dr Muhammad Tahir-ul-Qadri is timely and he deserves congratulation on this. State terrorism is being committed without abandon. America had set up the Jihad camps whose camps we are having to pay.
Anwar Akhtar Advocate, Secretary General of Pakistan Awami Tehreek, said that Dr Muhammad Tahir-ul-Qadri has done a great favour to the Muslim Umma by having saved Islam from the clutches of extremists and terrorists.
Dr Jamil Chishti said that the mischief of Khawarij has been present since the times of the Holy Companions. It is high time the government of Pakistan sought guidance from this Fatwa and took steps to eliminate terrorism and extremism.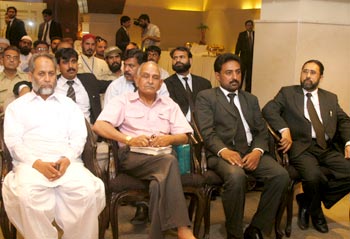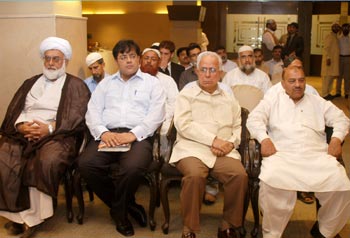 Dr Sabiha Arshad al-Mashriqi, chairperson of Khaksar Tehreek, said that she was in full agreement with the contents of the Fatwa of Dr Muhammad Tahir-ul-Qadri. The difference between Jihad and terrorism has been obliterated today. Terrorists are enemies of humanity. She said that it is also the responsibility of the government to end policies that cause terrorism.
Dr Ali Hassan, member of MQM's Rabta Committee, said that he was full of tribute for Shaykh-ul-Islam Dr Muhammad Tahir-ul-Qadri. There is no concept of terrorism in Islam and those who issue the ticket of paradise to perpetrate terrorism are misguided elements. He warned that an effort is being made to isolate Pakistan and Islam. We need to become a nation to foil such conspiracies against our motherland.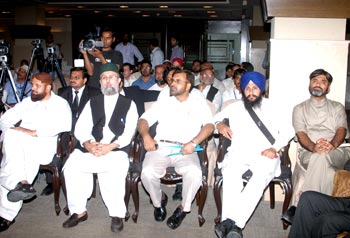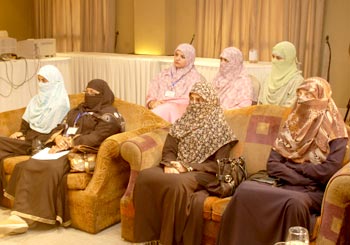 Vice presiden of Supreme Court Bar Association Mian Waheed Akhtar, and Lehrasap Khan Gondal also spoke on the occasion and paid tribute to Shaykh-ul-Islam for his Fatwa.
A resolution adopted at the end of seminar sought an end to the practice of caricatures of the Holy Prophet (saw), which hurt the feelings of over a billion Muslims. The participants also demanded that those responsible for the carnage in Karachi should be brought to justice. Complete solidarity was expressed with the Pakistan armed forces who are busy flushing out terrorists.
Names of organized team TMQ Aziz Bhatti Town :
President : Haji Muhammad Arshad Tahir
Vice President : Saleem Imran
Nazim : Shahbaz Hussain Bhatti
Nazim Welfare : Sanaullah Khan
Media Coordinator : Mohsin Qadri