Monthly Spiritual Gathering of Gosha-e-Durood - May 2010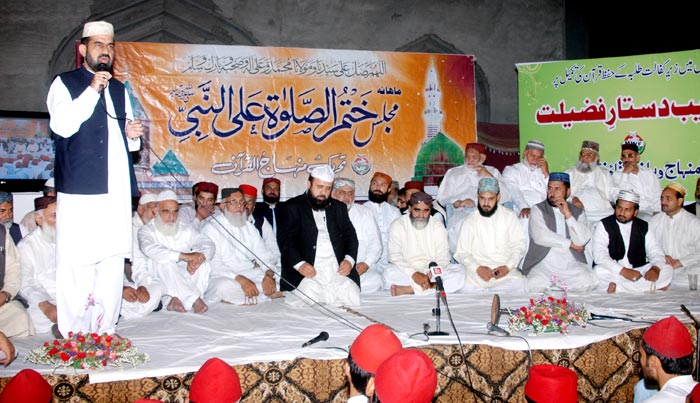 The 53rd monthly spiritual gathering of Gosha-a-Durood for May 2010 under the aegis of Minhaj-ul-Quran International was held on May 6, 2010. The students from Orphan Care Home (Aaghosh) who have completed Hifz-e-Quran were also honoured in the ceremony. Miskin Faiz-ur-Rehman Durrani, central Amir-e-Tehreek, presided over the programme, whereas the distinguished audience included Dr Raheeq Ahmad Abbasi, Sheikh Zahid Fayyaz, Rana Muhammad Idrees G.M. Malik, Raja Zahid Mahmood, Iftikhar Shah Bokhari, Allama Farhat Hussain Shah, Rana Farooq Ahmad, Haji Muhammad Saleem Qadri, Ahmad Nawaz Anjum, Jawad Hamid, Dr Tanvir Azam Sandhu, Haji Riaz Ahmad, Allama Ghulam Murtaza Alvi, Sajid Mahmood Bhatti and other leaders of MQI.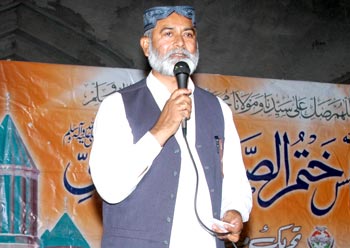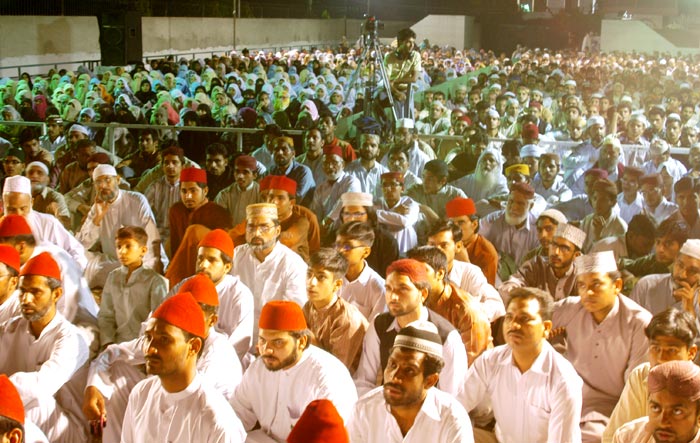 A large number of participants including women and central leaders of Minhaj Women League attended the programme for whom separate place was specified. On the right side were seated the students from Aaghosh who completed the Hifz-e-Quran. Digital screen was also installed in the venue for the participants.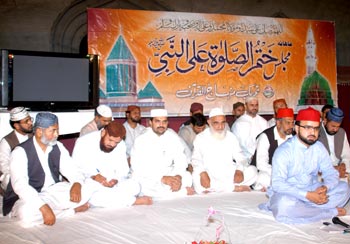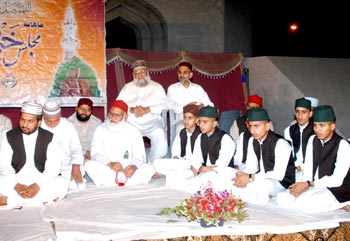 The formal proceedings started at 9 pm after Isha prayers with the recitation from the Holy Quran. Shahzad Brothers, Bilali Brothers, Shahzad Hanif Madani, Anser Ali Qadri and Minhaj Naat Council presented Naat. The Naat session continued till 10:45. Afterwards, Allama Ahmad Nawaz Anjum presented report of Durood offered during the month of April. He told that the number of Durood offered at Gosh-a-Durood and other centres of Minhaj-ul-Quran International stood at 58 corers, 4 lacs, 59 thousand and 859, whereas the total number of Durood offered so far since the inception of Gosh-a-Durood is 14 billion, 16 corers, 49 lacs, 64 thousand and 332.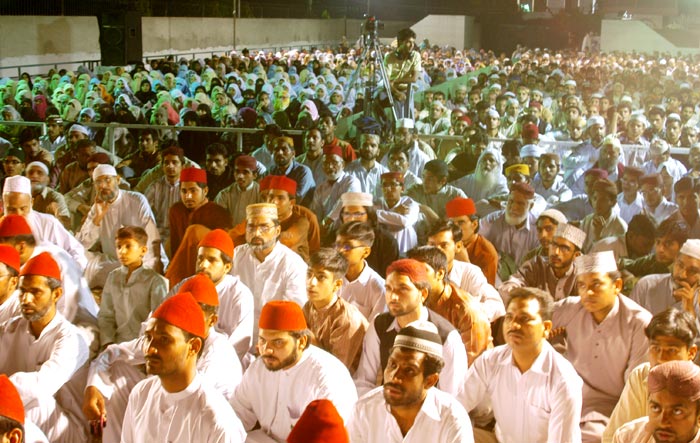 Nazim-e-Ala Dr Raheeq Ahmad Abbasi also spoke to the gathering before the keynote speech of Shaykh-ul-Islam Dr Muhammad Tahir-ul-Qadri. The first episode of addresses of Shaykh-ul-Islam on the subject of "Mysticism and Teachings of Sufis" recorded for QTV was shown. Dr Muhammad Tahir-ul-Qadri threw light on the usefulness of mysticism and teachings of mystics.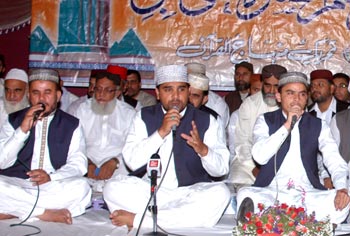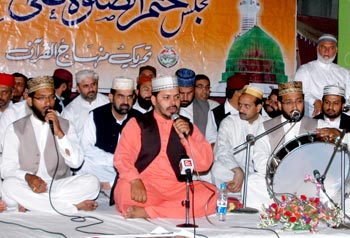 He said that the Sufis and Sufism played central role in propagating Islam in the sub-continent but unfortunately, their teachings of the Sufis and mysticism itself came under attack from different quarters. A particular section of people tried their utmost to misinterpret Sufism with a view to alienating the youth and this conspiracy against Sufism continues unabated to this day.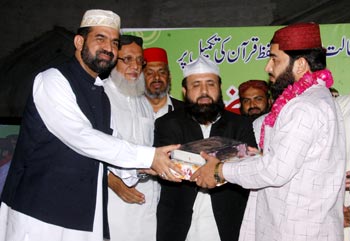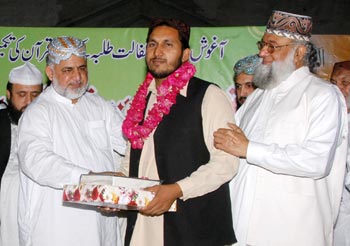 He said that the teachings of Sufis were so distorted and presented out of context that Sufism came in for good amount of denunciation on different counts. Some people tried their level best to put their bigoted interpretation on Sufism in order to mislead people. They tried to give the impression as if the Sufis claimed to have received revelation, God forbid, though the fact remains that only the Prophets are recipients of revelation. He said that there is a dire need to remove this misconception for which he has started this series of speeches on this subject.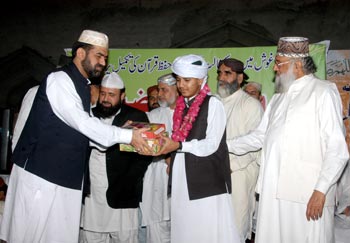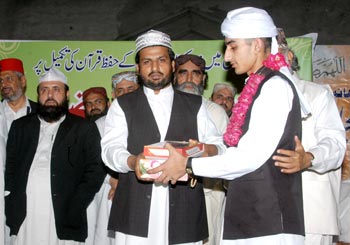 Shaykh-ul-Islam Dr Muhammad Tahir-ul-Qadri said that another area of misunderstanding is that people with vested interest propagated that the Sufis taught monasticism and renunciation of world. Sufism was debunked to prove as if the Sufis were the creation of another world having nothing to do with practical realities of life. The fact of the matter is that Sufism is the embodiment of peace, tranquility and love and nothing else. It represents the best in humanity for its welfare.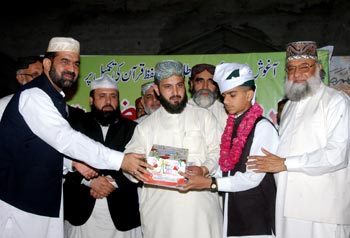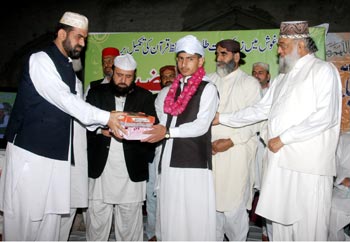 Dr Muhammad Tahir-ul-Qadri said that in an age when Islam is being debunked and its teachings brought into disrepute, showing the true face of Islam to the world is the greatest Jihad and Minhaj-ul-Quran International is performing this responsibility in a befitting manner. The scourge of lawlessness, economic bankruptcy and political instability is the result of our actions. We have given up the teachings of Allah and His Prophet (PBUH) and ignored the Dawa work of good and piety. That is why we have fallen victim to the torment of different types.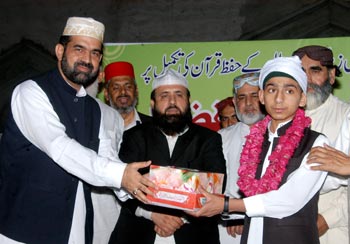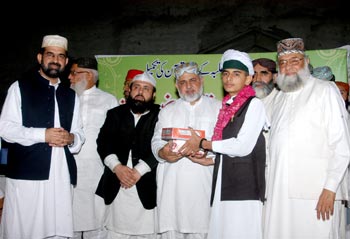 He said that if the Pakistani nation wanted to see their country progress, it would have to use its power of ballot correctly. These are the weapons which, if the nation gets armed with, may prove effective in generating pious and capable leadership. He said that it is the Divine principle that Allah Almighty does not subject the entire nation to torment, if some of its people suffer from evil. However, if the evil becomes rampant and no one comes forward to stem its onward rush, different kinds of sufferings come upon the society. One form of the torment is the superimposition of dishonest, incompetent and characterless leadership on the people. To top it all, collective awareness of such a nation is snatched away.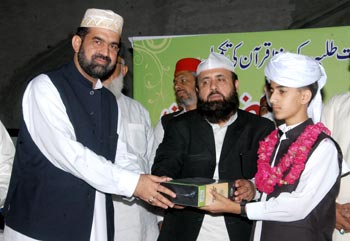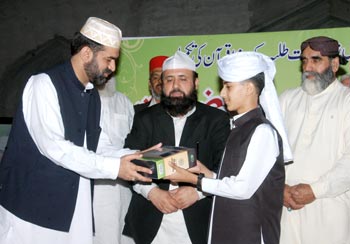 Dr Muhammad Tahir-ul-Qadri said that the nation continues to complain about its ill-fate but does not review its conduct. In this age, people make fun of those who act upon religion. He said that if we reviewed ourselves with a corrective mindset, things would get better. He urged the youth to play their role in that regard, for future of the country and Muslim Umma lies upon them.
The programme ended with Dua for national progress and prosperity.