MWL leaders visit different towns of Lahore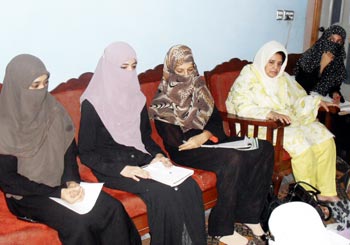 The central body of Minhaj-ul-Quran Women League designed a visit plan to different towns and areas of Lahore. The purpose of the visit was to review the performance of local chapters of Minhaj-ul-Quran Women League in Lahore and listen to the problems of workers and guide them for better output through increased interaction and frequent meetings. The Minhaj-ul-Quran Women League team led by Secretary General MWL Miss Sumaira Rafaqat Adovcate visited three towns namely Aziz Bhatti town, Shalimar town and Wahgha town on May 25, 2010 on the first leg of the tour. The delegation consisted of Miss Sumaira Rafaqat Adovcate, Ms Noshaba Hameed, Ms Tahira Ferdous, Ms Zareen Latif, and Ms Maryam Hafiz.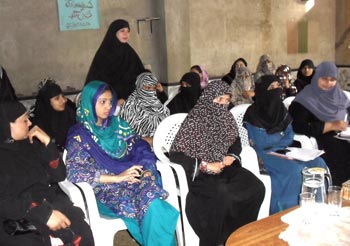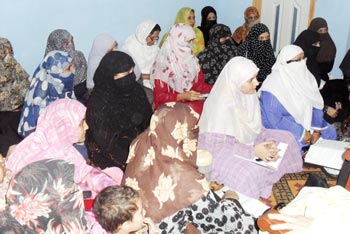 MWL office holders and leaders of different towns also participated in the meetings. Briefing the workers, Sumaira Rafaqat Advocate said that the purpose of the visit was to assess the organizational output of different chapters of MWL, give guidance to remove problems in the field and improve the working of MWL for attainment of the fixed targets.
She said that every worker was important for MWL, both individually and collectively, and we would be held accountable for our respective responsibilities before Allah and His Prophet (saw). She said that the holding of office of MWL demanded of us to keep on subjecting ourselves to introspection and adopt organizational discipline, besides obeying the leader in entirety. She urged the participants to focus their attention on personal reformation and attract people to MQI by setting personal example.
The local office holders presented complete report of performance to Secretary General of MWL. Sumaira Rafaqat Advocate directed the sub-chapters to work on certain Standard Operating Procedures (SOPs) for better output. The meeting ended on Dua.