Minhaj Women League organizes Islamic Learning Camp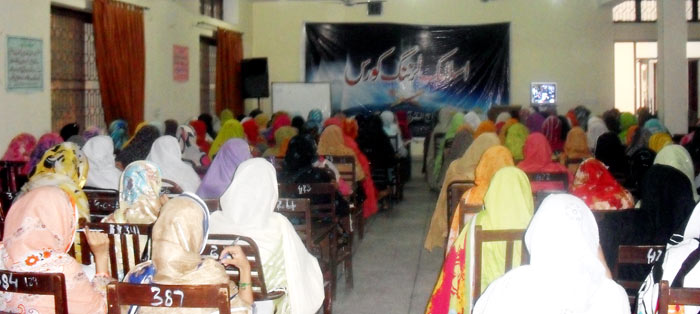 By the grace of Almighty Allah and the blessings of Holy Prophet Muhammad (blessings and peace be upon him) the Minhaj-ul-Qura'n Women League organized a 7-day Islamic Learning Camp to train young sisters on both spiritual and moral bases. On the first day of this camp almost 200 sisters from all over Pakistan joined this camp. The proceedings started with recitation of verses from the Holy Qura'n followed by a beautiful Nasheed and Darood-o-Salam.
Sister Sajida Sadiq (Naib Nazima Minhaj-ul-Qura'n Women League) gave introductory briefing. She extended to the sisters warm welcome and explained to them in detail the aims and purposes of the camp.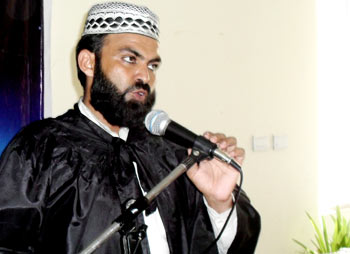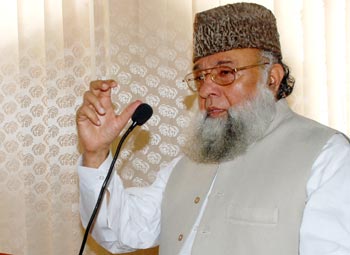 Respected scholars Shareef Kamalvi, Afzal Qadri, Faiz-ur-Rehman Durrani, Farida Sajjad, Shaykh Abdul Aziz Dabbagh & Sister Shumaila Abbas delivered lectures on the topics Tajweed, Hayat-un-Nabi (s.a.w.), Conflict Management, Life of Holy Prophet Hazrat Muhammad (s.a.w.), Art of Speaking & Naat respectively.
In the evening activities, a video lecture of Hazoor Shaykh-ul-Islam Dr. Muhammad Tahir-ul-Qadri was played. Moreover there was a discussion session in which all the students actively participated & expressed their views about the given topics.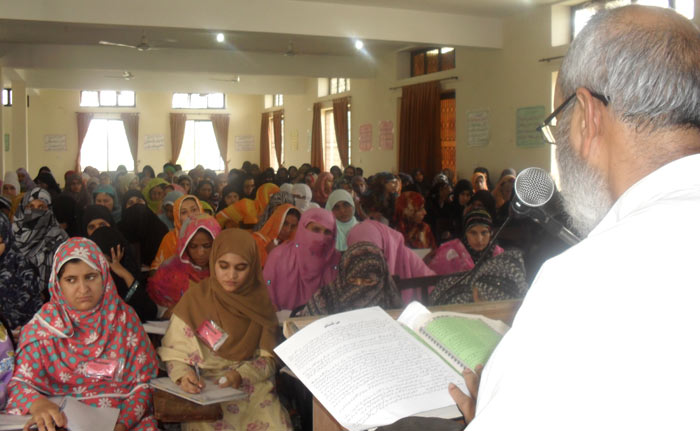 Mehfil e Naat:
On 6th of July in the evening, a beautiful Mehfil Naat was arranged for the students of Islamic learning course. Sister Shumaila Abbass was also there to offer Darood and Salaam on Holy Prophet (s.a.w.) in her melodious voice. Students of the camp also chanted beautiful Nasheeds showing their love for the Holy Prophet (s.a.w.). All the female teachers of Islamic Learning course and members of Minhaj-ul- Qur'an Women League Pakistan attended the Mehfil. The Mehfil ended by paying heartiest Salutations on Holy Prophet (s.a.w.).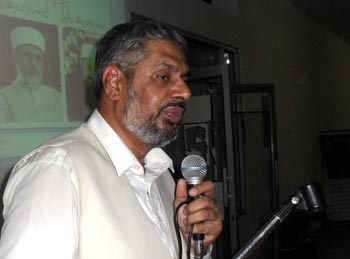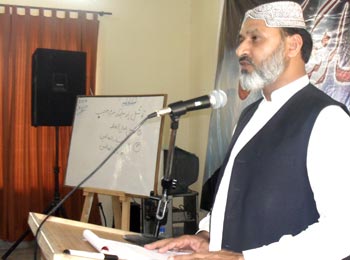 The proceedings of the second day got underway with the recitation from the Holy Quran followed by the recital of Naat.
Mohtaram Sharif Kamalvi started with Tajweed & then following the schedule, the teachers delivered lectures on their respective topics. Respected Amir-e-Tehreek Mohtaram Faiz-ur-Rehman Durrani, Respected Sister Fareeha Khan, Respected Shaykh Abdul Aziz Dabbagh & Respected Sister Shumaila Abbas spoke on Marahil-e-Ba'sat-e-eNabvi (s.a.w.), Tohid-o-Risalat, Importance of MQI, Art of Speaking & Naat respectively.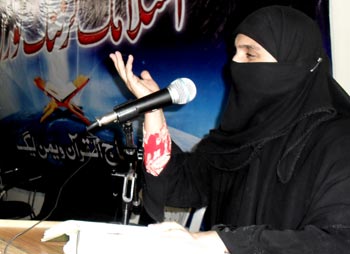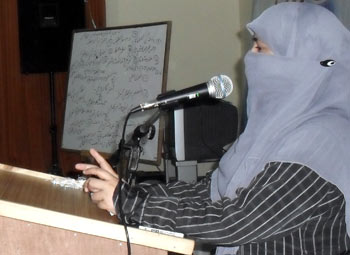 Alhamdulillah, the third Day was a also a great motivation for the sisters. Mohtaram Shareef Kamalvi, Respected Sister Sajida Sadiq, Respected Sister Shumaila Abbass, Mohtaram Sajid Bhatti & Respected Shaykh Abdul Aziz Dabbagh gave special lectures on Tajweed, Women's role in Islam, Naat, Akhlaqi Razail or unka asaraat & Fun-e-Guftagu respectively.
May Allah strengthen Minhaj-ul-Quran Women League's efforts worldwide to educate the new generations of the Muslim Ummah about necessary knowledge to turn them into true ambassadors of Islam!